On June 24, Zhejiang University School of Management (ZJU-SOM) and Leeds University Business School (LUBS) jointly held a seminar on the theme of "Marketing in Uncertain Times". Prof. Julia Bennell, Dean of LUBS, and Prof. WEI Jiang, Dean of ZJU-SOM, attended the Seminar and made opening speeches. Both sides hope to further enhance understanding and strengthen cooperation through the seminar. More than 50 researchers attended the seminar and had a live discussion. 
At the beginning of the seminar, Dr. SHENG Feng, faculty at ZJU-SOM, shared his research results of "Decomposing Loss Aversion from Gaze Allocation and Pupil Dilation". The research couples a computational process model with eye-tracking and pupillometry to develop a physiologically grounded framework for the decision process leading to accepting or rejecting gambles with equal odds of winning and losing money, and come to a conclusion that loss-averse decisions were accompanied by preferential gaze toward losses and increased pupil dilation for accepting gambles.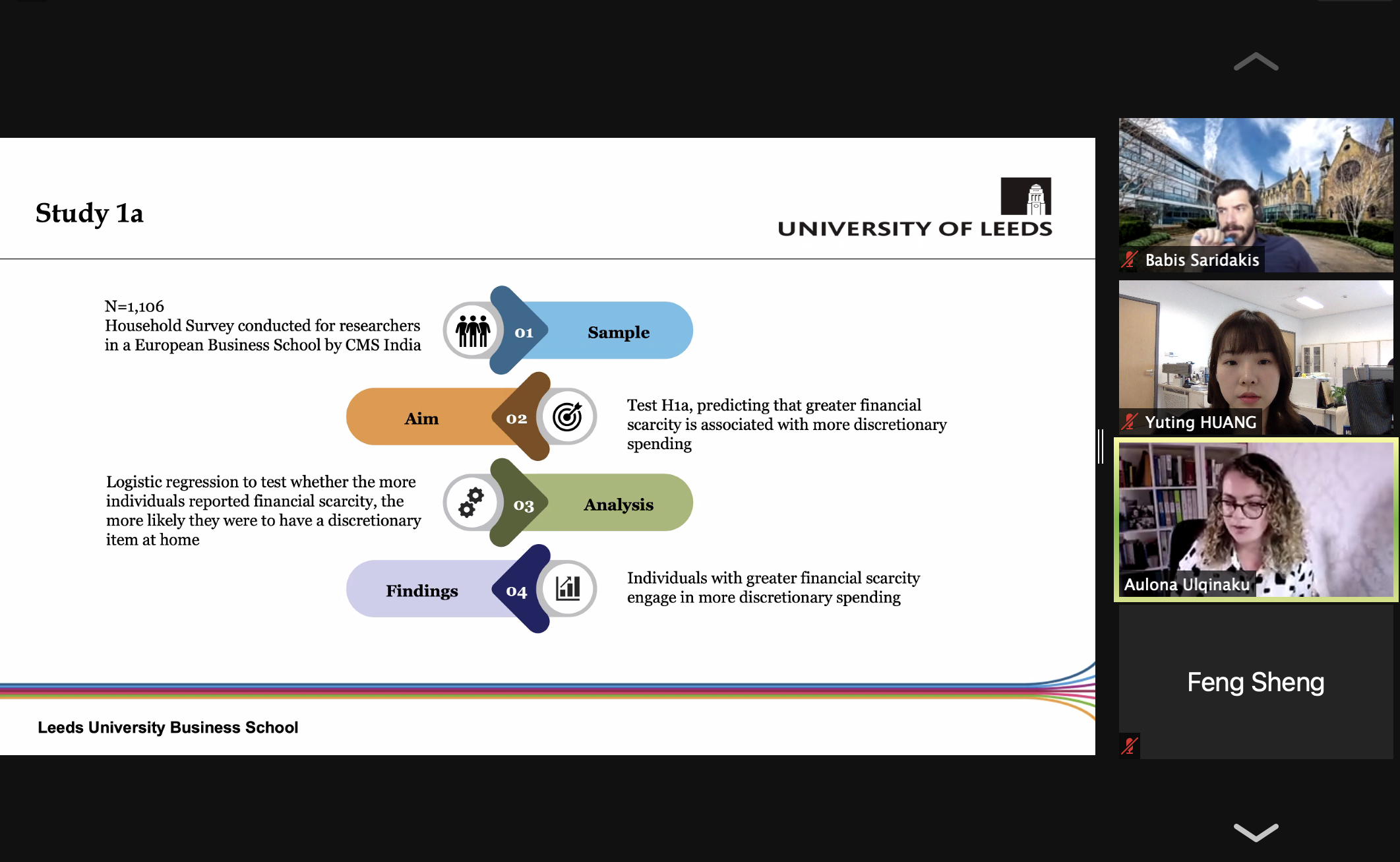 Whereafter, Dr. Aulona Ulqinaku, faculty at LUBS, analyzed the Effect of Financial Scarcity on Discretionary Consumption. She hypothesized and found that individuals with scarcer financial resources engage more in discretionary spending, borrowing, and investing.
HE Lin, PhD researcher at ZJU-SOM, examined the dynamic cognitive mechanisms underlying crowdfunding investment decisions from a neural perspective, and shared the research results of "Inter-brain Neural Synchronization between Entrepreneurs and Investors during Live Crowdfunding Pitches".
Finally, HUANG Xuan, PhD researcher at LUBS, discussed her study on "When CSR is a Waste of Money: How Corporate Transparency Models CSR Effectiveness". Building on signaling theory, her study explores corporate transparency as a boundary condition of the effects of CSR activities on the consumer–brand relationship.