The School of Management is honored to announce that our School has been awarded a five-star overall rating through the world- QS Stars Business Schools Rating System. The QS Stars Business Schools system evaluates institutions against a range of key performance indicators based on its methodology. A typical five-star business school generally a world-class in a board range of areas from facilities to research innovation and entrepreneurship, and has more than one accreditation.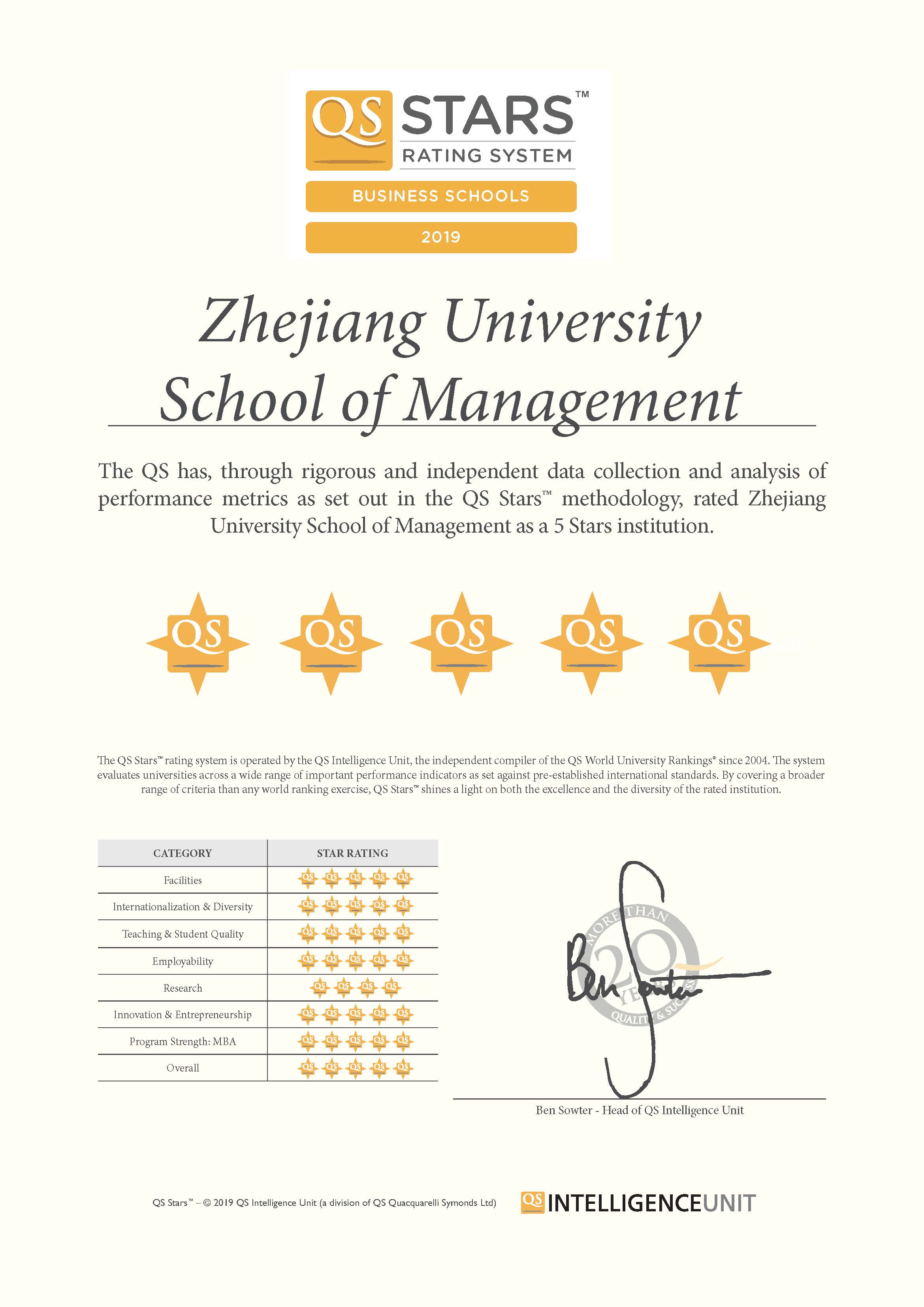 In addition to overall five-star rating, the School also received five-star specifically in six categories: Facilities, Internationalization & Diversity, Teaching & Student Quality, Employability, Innovation & Entrepreneurship, and Program Strength (Full-time MBA).


Five-star in Facilities shows ZJU's commitment to providing its students with excellent facilities. In respect to Internationalization & Diversity, SOM delivered another stellar performance, with maximum points in four indicators: International diversity, Ethnic mix, Academic partnerships, and International students, reflecting the School's international outlook and global reach. In Employability, Zhejiang University School of Management had another perfect result with the full 200 points and 5 Stars. Our Career Development teams are here to cultivate well-rounded students for challenging business environment and help students achieve their career goals. Five-star was also awarded to our Full-time MBA program, which offers different tracks for students to specialize in a sector or industry of particular interest, aiming to provide students with relevant, innovative and inspiring business education and to cultivate entrepreneurial spirit.
QS is best known for publishing the QS World University Rankings—one of the world's most popular university ranking systems. Developed from the QS Stars Universities rating system, QS Stars Business Schools uses a methodology designed to assess criteria of particular relevance for institutions specializing in business education. The aim is to provide an additional resource for prospective business school applicants, while also enabling business schools to benchmark their own performance, identifying both fields of excellence and areas for development. The QS Business Schools assessment process takes into account nine categories, including facilities, internationalization & diversity, teaching & student quality, employability, research, innovation & entrepreneurship, engagement, rankings & public evaluations and program strength.