Innovation in Biomedicine: Obstacles and Prognosis | Prof. LIU Jingjiang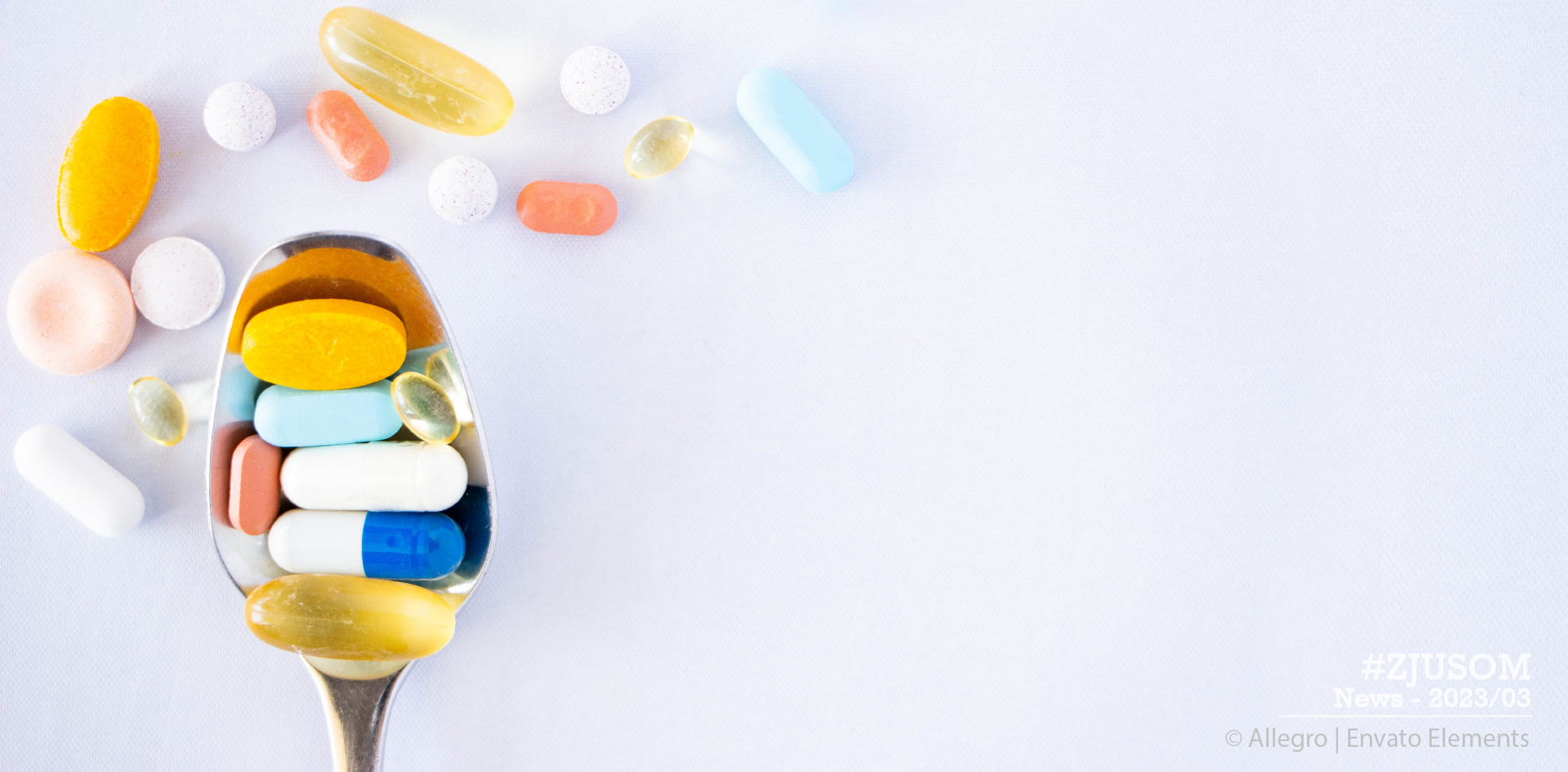 Biomedicine has been continuously flourishing while most industries have faced significant setbacks since the beginning of the COVID-19 pandemic. This has inspired an overwhelming attention to biosecurity; a lot of countries have vested interest in bio-technology and its industrial applications.
It has been pointed out in the "14th Five-year plan for the Development of Bio-economy" issued by National Development and Reform Commission that, biomedicine is one of the most important factors that can determine major changes in the health industry including innovations and breakthroughs. Likewise, The Plan asserts that the innovations in, and the industrial application of biotechnology are vital to build a sturdy national biotechnology strategic force, achieve self-reliance in science and technology, ensure security and stability of the industrial chain and supply chain, speed up the integration of biotechnology with other fields, and introduce new formats and new models in the field of biology.
Encouraged and incentivized by multiple favorable policies enforced by the Chinese government, the Chinese biomedical industry is developing exponentially. However, difficulties are bound to arise for an industry intimately related to people's health and personal security.
What obstacles are encountered by the industry of biomedicine and how can they be dealt with, effectively?
Mr. LIU Jingjiang, an Associate Professor for the Department of Innovation, Entrepreneurship and Strategy in Zhejiang University's School of Management, jointly with ZHANG Wei, the Deputy Dean of the Institute of Chinas Science, Technology and Education Policy, recently had their paper, "Solve the Problem of Achievement Transformation and Accelerate the Innovation of Biomedicine Industry" published in Science and Technology Daily. In the paper, they explore prospects that can accelerate the development of the biomedical industry in detail.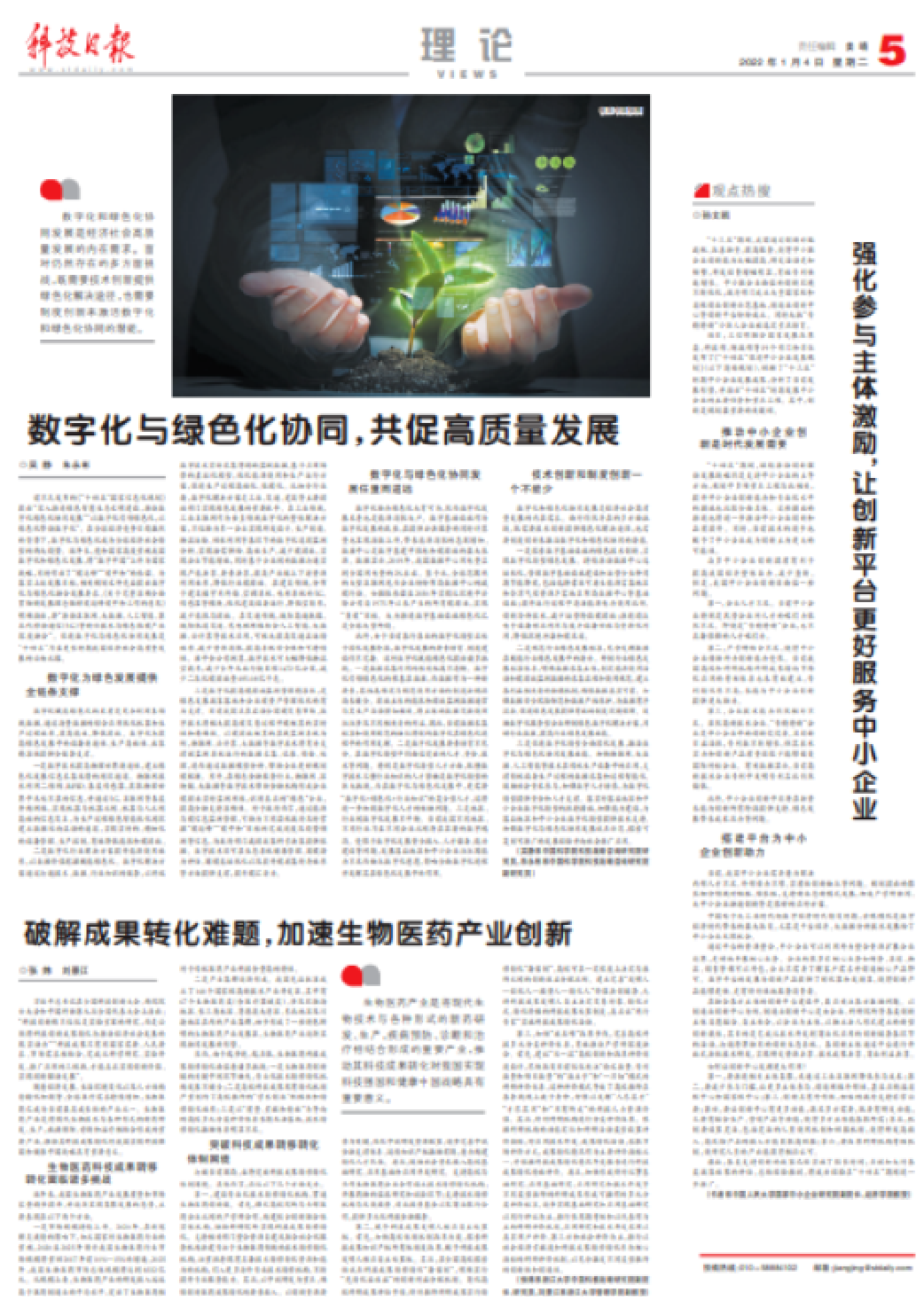 Science and Technology Daily dated January 4, 2022, Edition 5
LIU Jingjiang  |  刘景江

School of Management, Zhejiang University




---




 

Academic Background: Academic background: LIU Jingjiang, Associate Professor, Department of Innovation, Entrepreneurship and Strategy, the School of Management Zhejiang University.
Research Direction: Innovation Management, Entrepreneurship Management, and Computational Social Science

---

You can learn more about Prof. LIU Jingjiang's academic background  here 
Solve the Problem of Achievement Transformation and Accelerate the Innovation of Biomedicine Industry
By ZHANG Wei / LIU Jingjiang
The General Secretary Xi Jinping has pointed out at the National Technology Innovation Conference, Academician Conference and the Ninth National Congress of China Association for Science and Technology that "scientific and technological innovations are not merely limited to research in the laboratory; they must be transformed into a tangible driving force to promote economic and social development of a nation". He also added that, only when these achievements are made compatible with the needs of the country, the people and the market, can they achieve a quantum leap from scientific research, experimental development to promotion and application.
Along with a burgeoning economy, changes in quality of life and the aging population, the global medical demand is bound to increase; biomedicine has thus become one of the most quickly growing industries in the world.
The Biomedical industry combines modern biotechnology with various forms of novel drug R&D, production, disease prevention, diagnosis and treatment. It will be of great significance for China, as it can play an important role in the enforcement of the Healthy China Initiative.
Multiple Challenges Faced in the Transfer and Transformation of Technological Achievements of Biomedical Industry
In recent years, development quality and market capacity of the Chinese biomedical industry have steadily improved, reflecting a concentrated development trend, mainly in the following two aspects.
First, the market size has increased constantly. Under the impact of COVID-19 in 2020 and China's biomedical industry's growing reputation on the global market, it is expected return to its growth rate of 10% - 15% (as before 2017) until 2025; in 2025 however, the overall size is anticipated to be valued at RMB 833.2 billion. In terms of market size, investments in research and development for it is far higher than other medical manufacturing industries, highlighting its exponential potential to grow into one of the most prominent industries of the Chinese economy.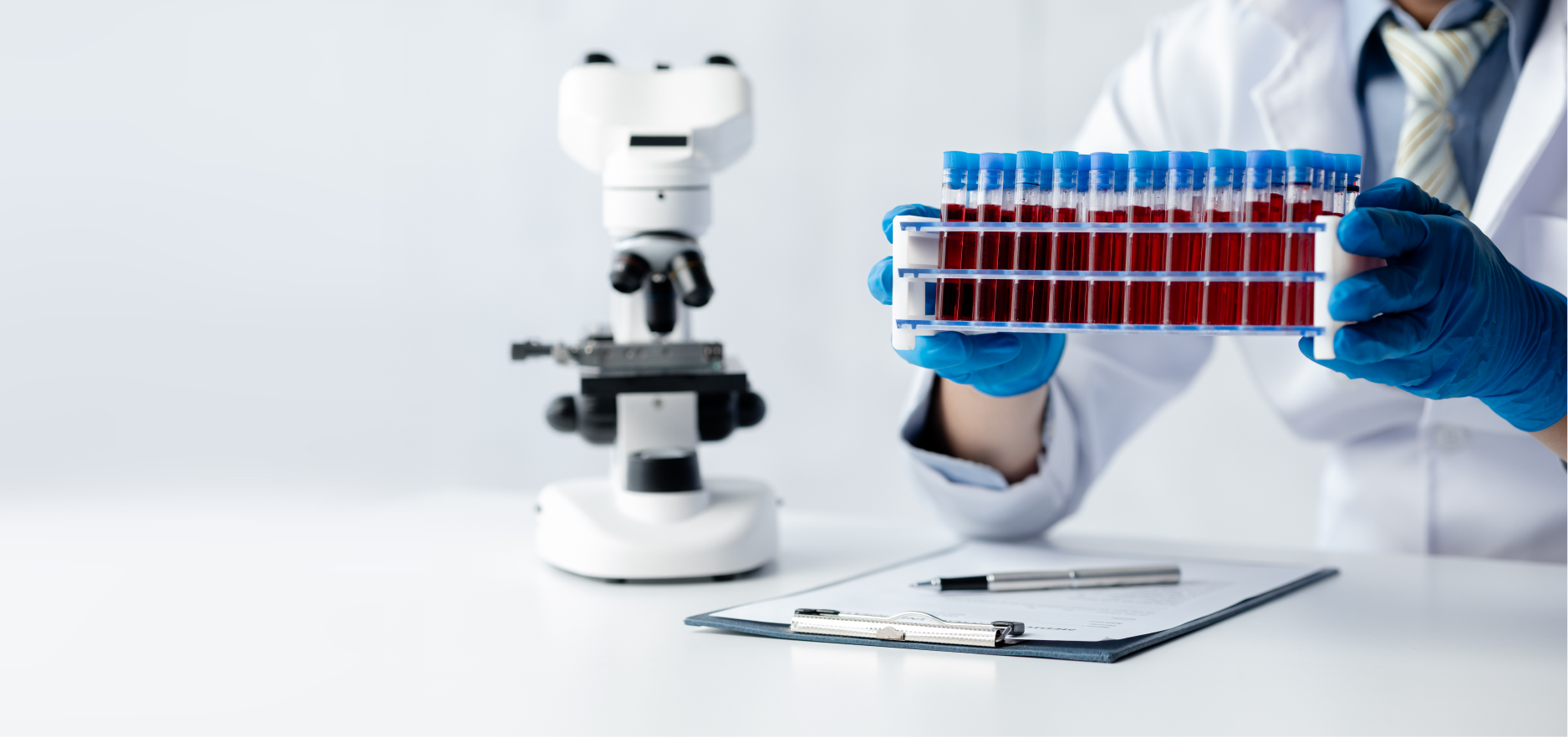 © Dekkdui | Envato Elements
Second, industrial clusters are sprouting gradually. China has successively approved the establishment of 168 national high-tech industrial development zones, among which 67 of them are affiliated to the biomedical field ( for example, medical apparatus and instruments). These industrial clusters are located mainly at the Circum-Bohai Sea Region, the Yangtze River Delta Region, Guangdong-Hong Kong-Macao Greater Bay Area, Northeast China Region and Sichuan and Chongqing area, unexpectedly forming some pre-established and coordinated Chinese biomedical industrial hot-spots.
However, because it began comparatively later than most, the Chinese biomedical industry is facing many challenges in the transfer and transformation of technological achievements. Firstly, the key intermediate link between innovation chain of biomedicine and development of specialized technology transfer and transformation institutions is missing; secondly, the existing transformation mechanism of technological achievements in academia has severely limited the enthusiasm for "academic entrepreneurship" and the efficiency of transfer and transformation; and thirdly, the multi-category evaluation system of colleges and universities guided by "quality, contribution and performance" hasn't been brought to practice, resulting in a significant insufficiency of the technological transfer and transformation incentive system.
In order to solve these difficulties, it is paramount to break through the dilemma of transfer and transformation system co-existing with all the technological achievements in biomedicine. To be more specific, efforts are to be made for the following:
| | |
| --- | --- |
| ■ | 1.   Establishing Specialized Technological Transfer and Transformation Structures to Integrate with the Biomedical Innovation Chain |
Firstly, strengthening university-industry cooperation by establishing entities that enforce a university-enterprise innovation consortium is important. This way, research institutes can materialize the transfer and transformation of technological achievements in biomedicine.
Secondly, investing on pilot R&D projects to determine specific inputs for the transformation of innovative medical achievements can also be effective because this way, optimizing the allocation of R&D resources, improving the pilot financial support system, and extending the incentive to protect intellectual property will be easier.
And thirdly, encouraging social capital to invest in foundational higher education research, application platform and application development research can assist academic institutions in establishing technological transfer and transformation institutions with highly reputed biomedical enterprises, and carrying out clinical research and medical experiment. It can also support technological transfer institutions to cooperate with Venture Capitalists and commercial banks to jointly provide diversified technology financial services.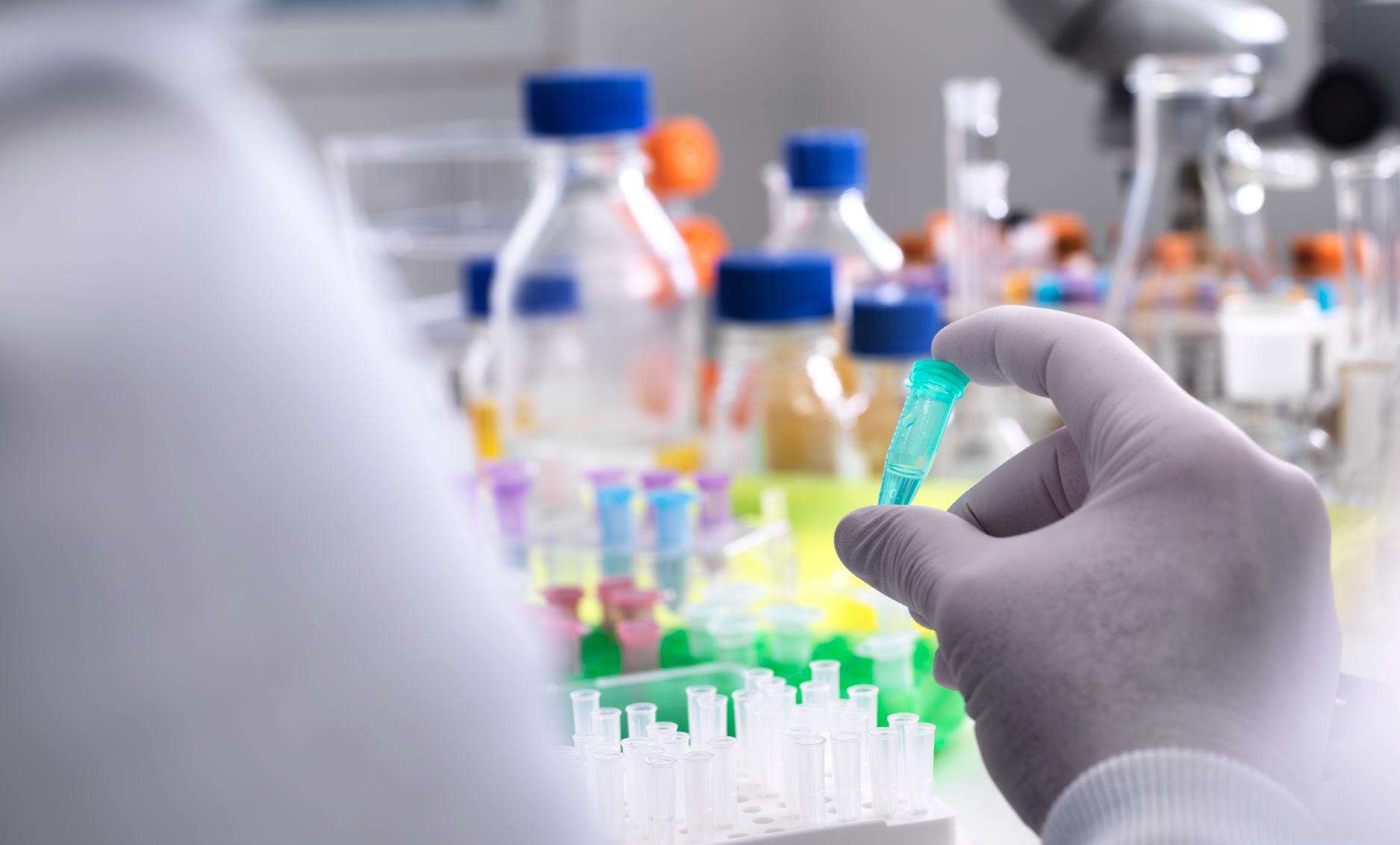 © Westend | Envato Elements
| | |
| --- | --- |
| ■ | 2.   Grant Inventors Independent Disposal Rights |
Firstly, accelerating the reform of intellectual property ownership in institutions and academia while granting inventors the corresponding independent disposal right is vital to achieving any transformational change in this field. Secondly, implementing a "filing system" for the technological achievement in academic institutions on a trial basis, and determining the profit distribution mechanism of "transformation first and profit second".
Simplifying all evaluation procedures for scientific achievements in academia, and implementing the "filing system" for it, while institutions and faculties can jointly determine the innovation income distribution proportion can also be helpful.
Establishing and improving the value co-creation chain of "inventor - broker - investor - transformer", while simultaneously allowing the inventor to autonomously determine the technological achievement disposal system, transformation method, and transformation price, in order to let the experts transform the inventors' technological achievements.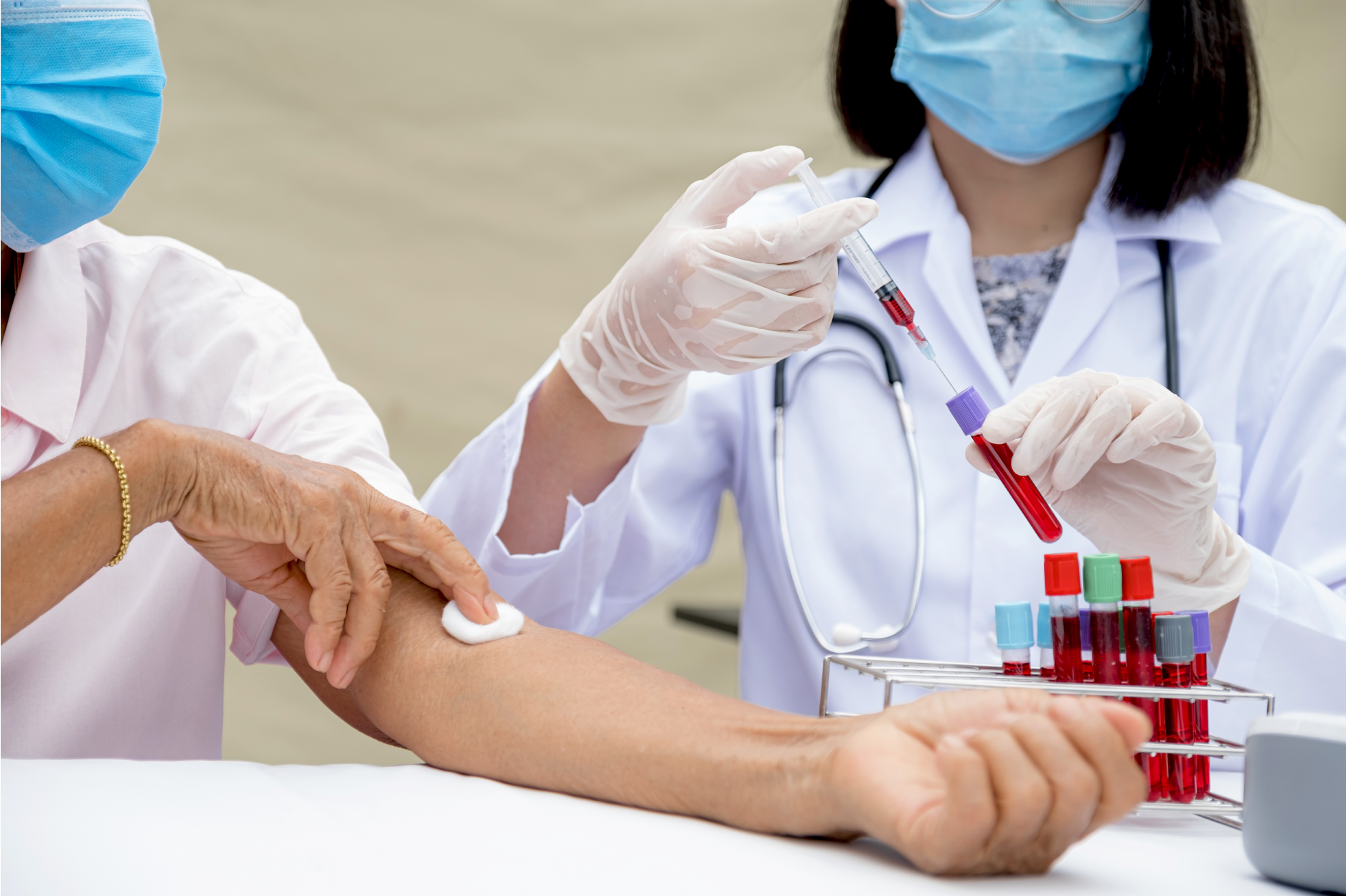 © Lucky | Envato Elements
| | |
| --- | --- |
| ■ | 3.   Accelerate "De-values" Reform Pace to Promote Deep Integration of Industry-University-Research |
Accelerating the rate at which "de-values" are being reformed in order to improve the categorical evaluation system of technological breakthroughs in academia and effectively promote the integration of industries, universities, and research.
First of all, it is suggested that "Double First-rate" colleges and universities in China's ought to reform the existing evaluation system of "only paper, patent and project numbers value". This has caused many instances where inventors have failed at fully adopting various technological human resources while trying their best.
Second, performing a classified evaluation reform in scientific research institutions by establishing evaluation indexes in compliance with the functional positioning of scientific research institutions and the types of scientific research activities, while also adopting effective market evaluation methods in terms of applied technology development, by reviewing an annual report on various transformations of technological achievements.
And third, accelerating the formation of an operable diversified evaluation standard in compliance with technological achievements of different types of faculties that are involved in basic research, application foundation research, applied research and technological development. This type of peer evaluation for basic research and application foundation research can promote a long-term scientific research evaluation mechanism; their representatives being chief entities with actual user evaluation, third party and social evaluation.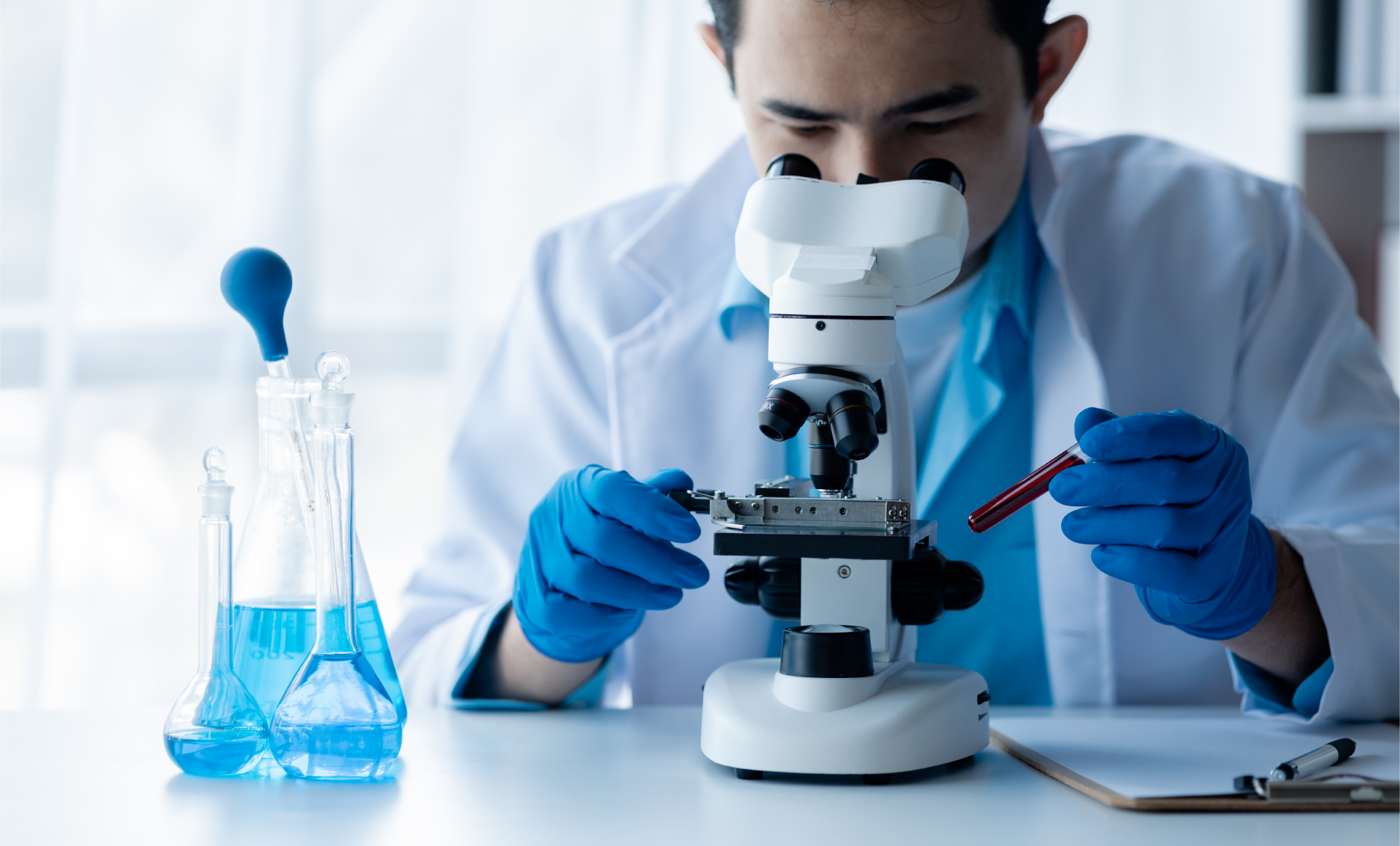 © Dekkdui | Envato Elements
Biomedicine is a strategic industry intimately co-related to peoples livelihood and national security. Biomedical enterprises are responsible for arranging R&D for innovation, break through technological achievement transformation difficulties, and cope with newly emerging trends of high-quality development, so as to meet a more diversified medical necessities of the populace.
It is believed that during the 14th Five-year (or longer) development era, the Chinese biomedical industry will certainly achieve great breakthroughs, benefit the masses and contribute significantly for the Healthy China Initiative.
---
- We thank Prof. ZHOU Lingqiang  and his colleague ZHANG Wei for the efforts put into researching the transformation of Biomedical Industry and sharing their findings with us.
- The original article in Chinese is available  here