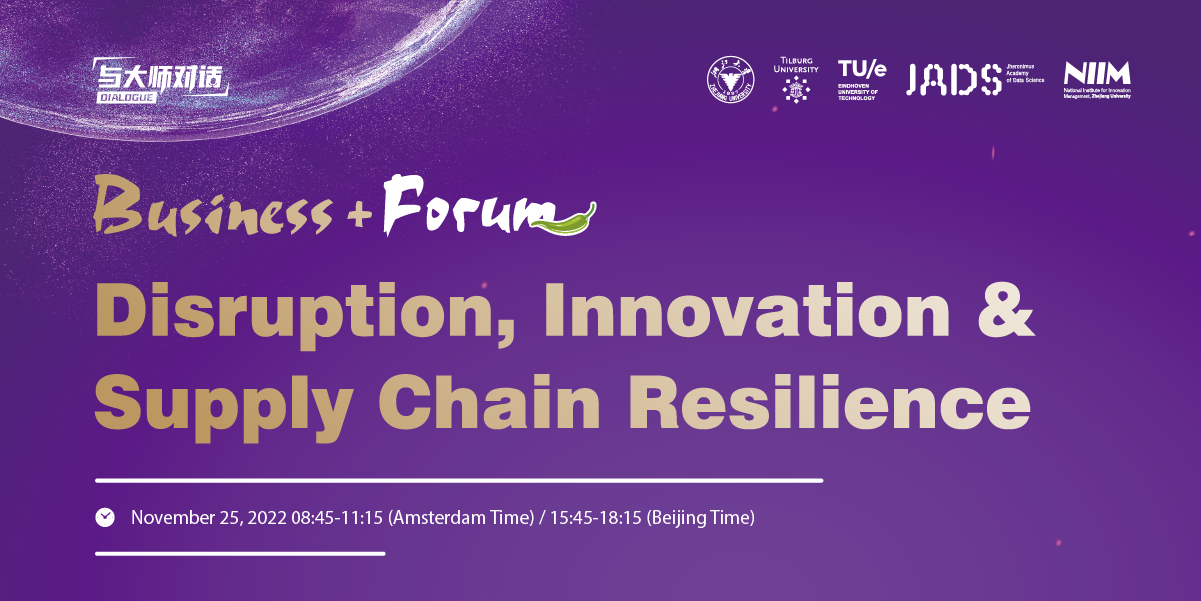 On November 25th, 2022, at 15:45 Beijing time (GMT+8) and 8:45 AM Amsterdam time (GMT+1), we welcome you to attend an online event dedicated to Disruption, Innovation & Supply Chain Resilience topics. Since after decennia of increasing integration of the world's economies, the past few years have witnessed a number of disruptions to the globalized production systems. Pandemic, war and political conflicts have exposed vulnerabilities that decision makers in governments as well as private firms have neglected for too long. The result is stagnation of production, inflation, and possibly an economic crisis in large parts of the world. According to some predictions we will enter an epoch of de-globalization, with far-reaching consequences throughout value chains. In this workshop we will discuss two fields that are, and arguably will remain in the focus of attention: supply chains and innovation systems, with a special focus on China and the West.
Supply chains have become fragmented and stretched out over the globe, as companies search for the optimal location of different types of activities. Now new equilibria between cost minimization and risk need to be found, leading to re-shoring of activities on the side of Western firms, and a drive to move further up the value chain in China. How will this play out in the future, and what will be the consequences for economic and social welfare?

Innovation benefits from a free flow of ideas, but the trend is for countries to become more hidebound and to construct obstacles to knowledge exchange, at the level of academic research, company R&D, and knowledge embodied in certain products. What will this mean for the innovation systems in China and in the West, and how can international knowledge exchange be safeguarded in the future? 
Program of the Workshop
   Beijing Time




15:45 - 15:55

8:45 - 8:55 (GMT+1)

Opening:

Prof. Yi Yang 

Associate Dean, SOM, Zhejiang University

Topic 01

 

 

Resilient Supply Chains in

an Uncertain World

15:55 - 16:25

8:55 - 9:25 (GMT+1)

Speaker:

Prof. Jan Fransoo

Tilburg University
16:25 - 16:35

9:25 - 9:35 (GMT+1)

Discussion

Topic 02

 

 

Decoding the Rise of Chinese Manufacturing: Why the Continuity of Catch-up Ladders Ultimately Matters

16:35 – 17:05

9:35 - 10:05 (GMT+1)

Speaker:

Prof. Bin Guo

School of Management, Zhejiang University
17:05 - 17:15

10:05 - 10:15 (GMT+1)

Discussion

17:15 - 17:30

10:15 - 10:30 (GMT+1)

Break

Topic 03

 

 

China's Innovation Capabilities in

a Fragmented World

17:30 - 18:00

10:30 - 11:00 (GMT+1)

Speaker:

Prof. Bruce McKern

University of Technology Sydney
18:00 - 18:10

11:00 - 11:10 (GMT+1)

Discussion

   Wrap up




18:10 - 18:15

11:10 - 11:15 (GMT+1)

Closing

Prof. Frans Greidanus 

Zhejiang University and Tilburg University
We welcome everyone to attend the even via the ZOOM platform!
To participate, please register by sending an email to:
TiSEM-MGMT@uvt.nl for Tilburg, Eindhoven and JADS participants;
SOM Participants:  Click here  to register.
Introduction of Speakers







Prof. Jan C. Fransoo

Professor of Operations and Logistics Management, Tilburg University




 

Jan C. Fransoo is a Professor of Operations and Logistics Management at the School of Economics and Management of Tilburg University in Tilburg, the Netherlands. He has conducted research across a wide variety of domains and methodologies, all related to supply chain and operations management, and published extensively in many journals in operations management, operations research, industrial engineering, and transportation. He currently serves as Associate Editor of Operations Research, and Production and Operations Management. In recent years, his research has mainly focused on retail operations in developing countries and other emerging markets. Much of this research is conducted in collaboration with Consumer-Packaged Goods companies, technology startups, and intergovernmental agencies such as the World Bank and the Interamerican Development Bank. Apart from this line of research, he also has active research lines on omnichannel retail, intermodal transportation, and urban logistics.



Prof. Bin Guo 

Professor of Innovation Management and Strategy, Zhejiang University




 

Bin Guo is Professor of Innovation Management and Strategy at the School of Management, Zhejiang University. He is also a vice-chairman of the Professor Committee at School of Management, and the deputy director of Joint Research Center for Global Manufacturing and Innovation Management by Cambridge University and Zhejiang University.  He received his Ph.D. in Management from Zhejiang University (1998), China. Prof. Guo's teaching and research interests are in the areas of innovation management and innovation strategy. He has published articles in refereed international journals including the Research Policy, Technovation, European Management Journal, International Business Review, Industrial Marketing Management, International Journal of Technology Management, Technology Analysis & Strategic Management, International Journal of Information Management, Journal of Information Science and other academic journals.
Prof. Bruce McKern  

Adjunct Professor of International Business, University of Technology Sydney




 

Bruce McKern is an educator, corporate advisor and speaker on corporate
innovation & strategy. Bruce worked in industry in Canada and Australia. He later earned a Doctorate in International Business at Harvard and has been in academic work for most of his career. His research is in the fields of innovation, strategy and international business; national innovation & technology policy, emerging multinationals; and innovation in China. Bruce has been dean of two Australian business schools and Director of the Stanford Sloan Masters Program at Stanford University's Graduate School of Business; President and Professor of International Business at the Carnegie Bosch Institute of Carnegie Mellon University; and a Visiting Fellow in the Hoover Institution, Stanford University. He is currently Adjunct Professor of International Business at the University of Technology Sydney, and was from 2011 to 2014 Professor and Co-Director of the CEIBS Centre on China Innovation, China Europe International Business School, Shanghai. He furthered this work as a Visiting Research Fellow at INSEAD (2015); the Technology & Management Centre for Development, University of Oxford (2015); and The Saïd Business School, University of Oxford (2016).