ZJU-SOM students learned how to "build personal brand and become an influencer" with UCLA Professor
UCLA Extension -"Personal Branding and Becoming an Influencer online program organized by ZJU-SOM was successfully concluded on Dec. 12. Lia Haberman, CMO at Fit body, Adjunct Professor from the University of California, Los Angeles conducted 4-day online lectures and exchanged ideas with students on personal branding and becoming an influencer.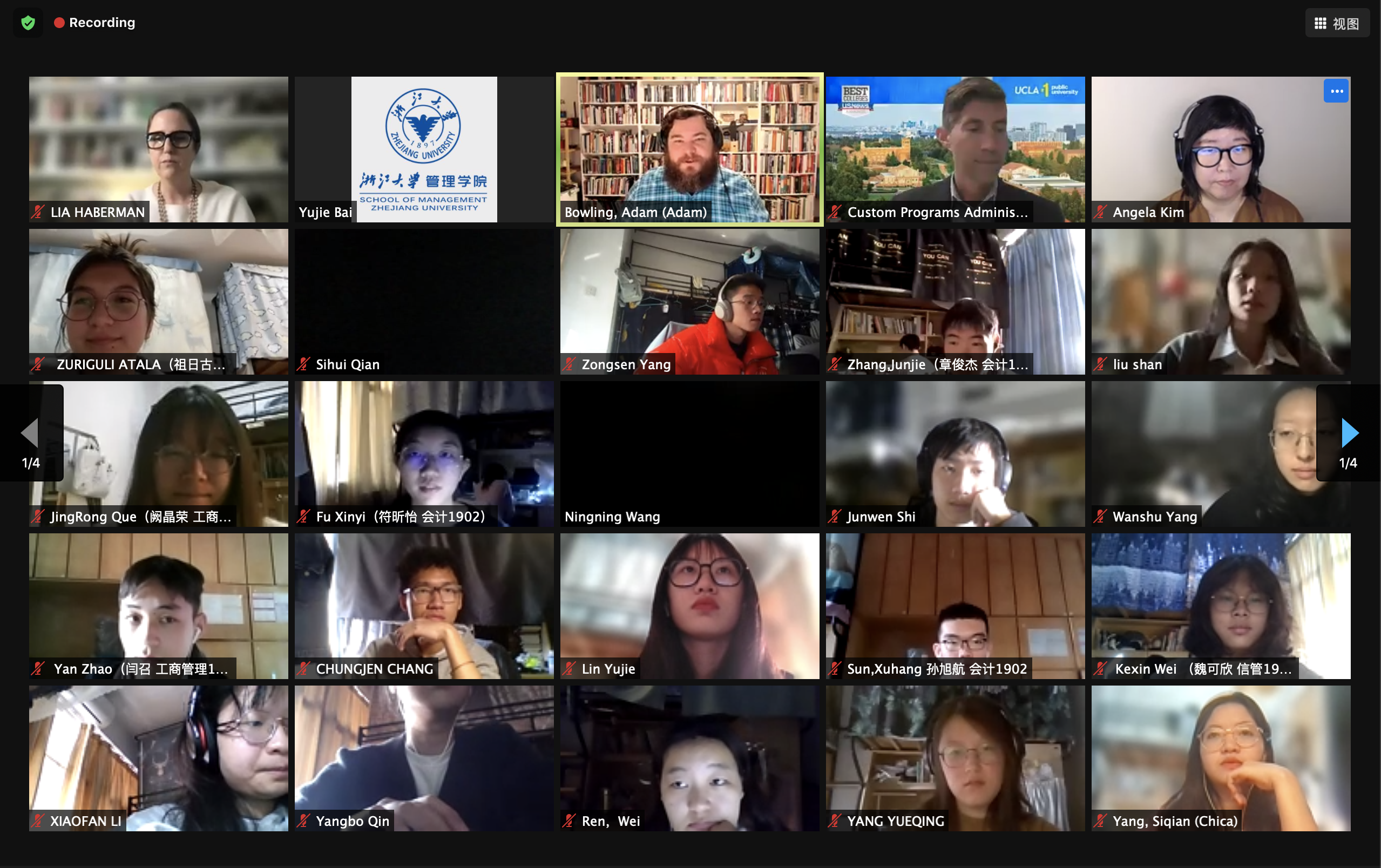 At the beginning, Prof. Lia uncovered the benefits of personal branding, which is whether you're looking to connect and expand your network, get ahead in the work force or leverage your brand to become an influencer.
Prof. Lia examined how someone with an enhanced brand in North America can become an influencer; where and how they express that brand, and the potential revenue opportunities that come along with that role. Students also discussed the trends in North American influencer marketing, and exchanged ideas about how this aligns and diverges from China's influence scene and where the industry is headed with Prof. Lia. Late in the class, each student finished personal branding worksheet, through the Pilot Your Purpose training to tap into their own motivation factors
Prof. Lia shared her work experience explaining trends in the creator economy. She talked about how creators move their top fans off of social networks and on to their own websites, apps, and monetization tools, how creators becoming founders, building out teams and assembling tools to help them start businesses while focuses on their art, and creators gaining power in the media ecosystem as fans seek to connect with individual personalities rather than faceless publishers.
Prof. Lia also talked about how influencers monetize their brand, which included sponsored content, advertising revenue, merchandise / services, creating content, tips, affiliated sales commissions, digital courses / e-books, subscriptions, and etc. "creators should not limit themselves to a specific platform, role or content, but use continuous experimentation to find a combination of content and business model that resonates with target audiences."Prof. Lia said.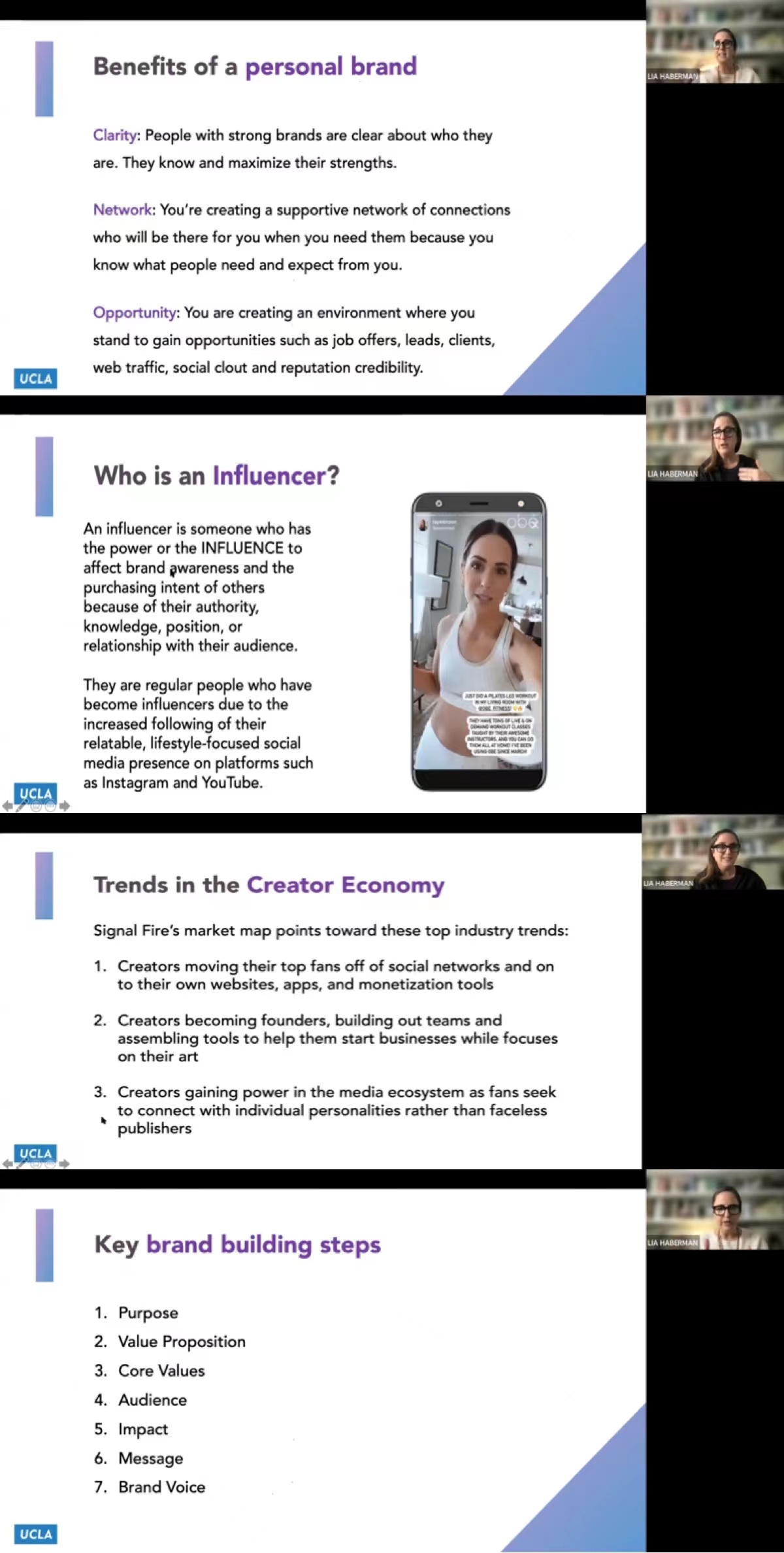 The program ended with media kit presentations by eight groups, with assigned influence marketing objects.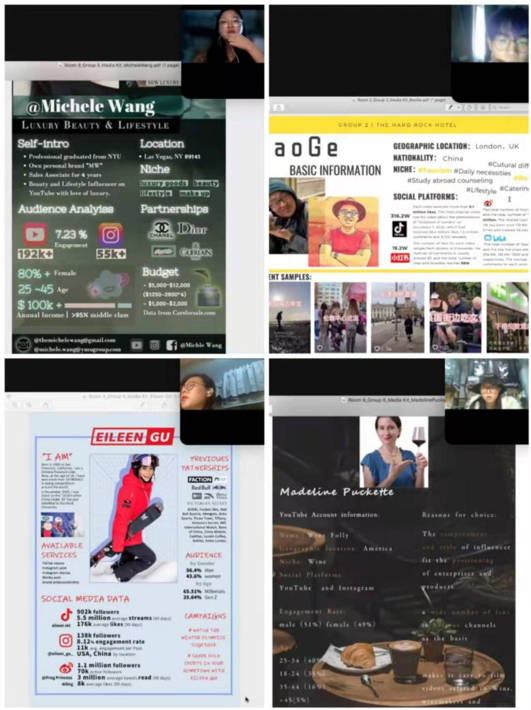 "The content of professor Lia Habermans class was so interesting that students didn't mind if it went beyond their normal lunch hour. I were intoxicated by the professors knowledge sharing."
"Influencer marketing was a topic of particular interest to me, and I have learned a lot through in this program. The content was very rich, and the learning process was very interesting and meaningful."
"I were very happy to communicate with professor Lia Haberman. She was very kind and encouraged us to actively communicate and discuss, which gave us a lot of confidence. In the communication, I not only increased my knowledge, but also improved my spoken English."