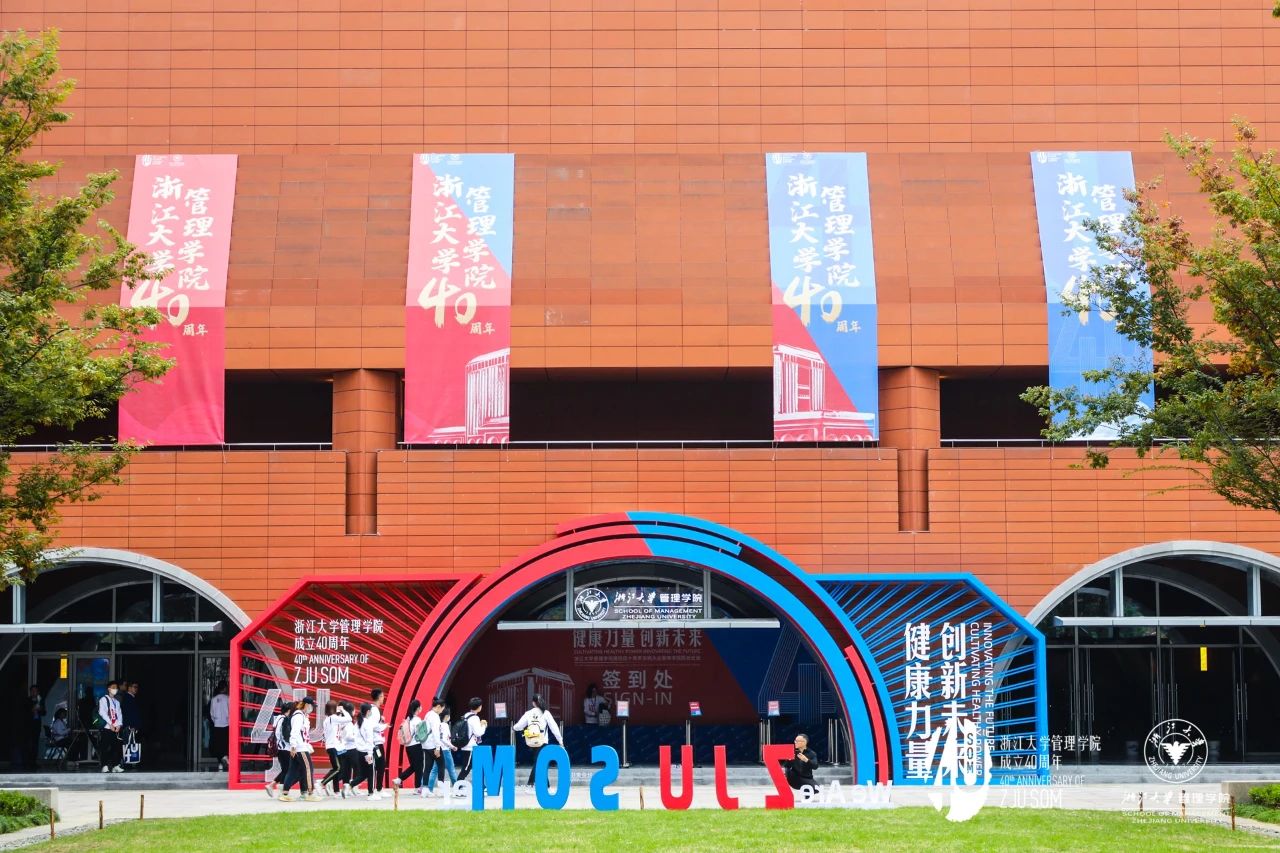 On November 1st, the celebration for the 40th anniversary of School of Management Zhejiang University was officially held at the new building of the School, with a total of 500 people attending, including the leadership of Zhejiang University and peer schools and universities, business leaders, and also representatives of alumni, faculties and students of SOM.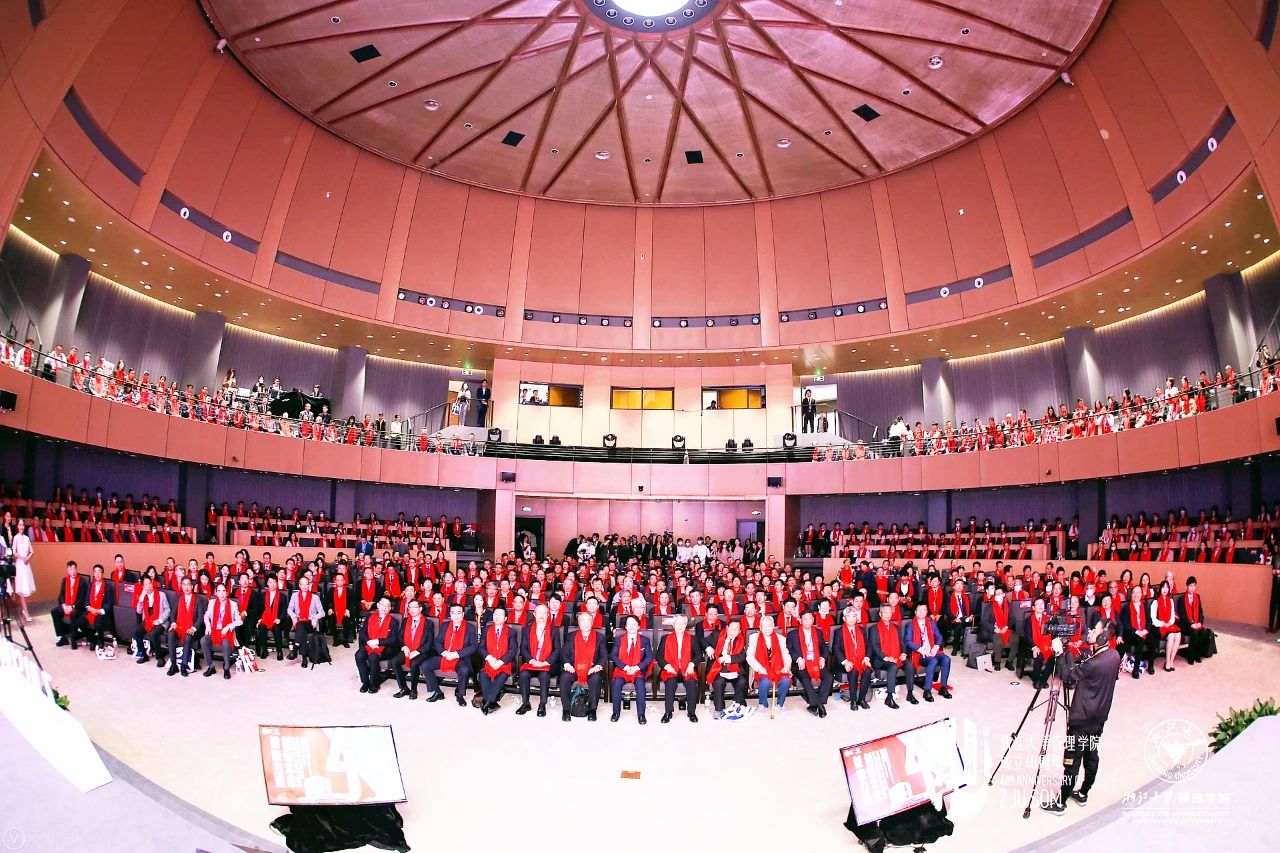 At the ceremony, Chairman ZHANG Xinsheng, President WU Zhaohui, Dean BAI Chongen, as well as our international partner schools made congratulations on the 40th anniversary of the School, paying tribute to the unremitting efforts made by SOM in the past 40 years.
Chairman ZHANG Xinsheng said he was very happy to see that SOM put forward social responsibility and social innovation in this context, and established the "School of Zhejiang University" of management. He hoped that SOM would continue to take cultivating the healthy power leading the future of China as its mission, and continually contribute to management research and education worldwide and the progress of human society as a whole.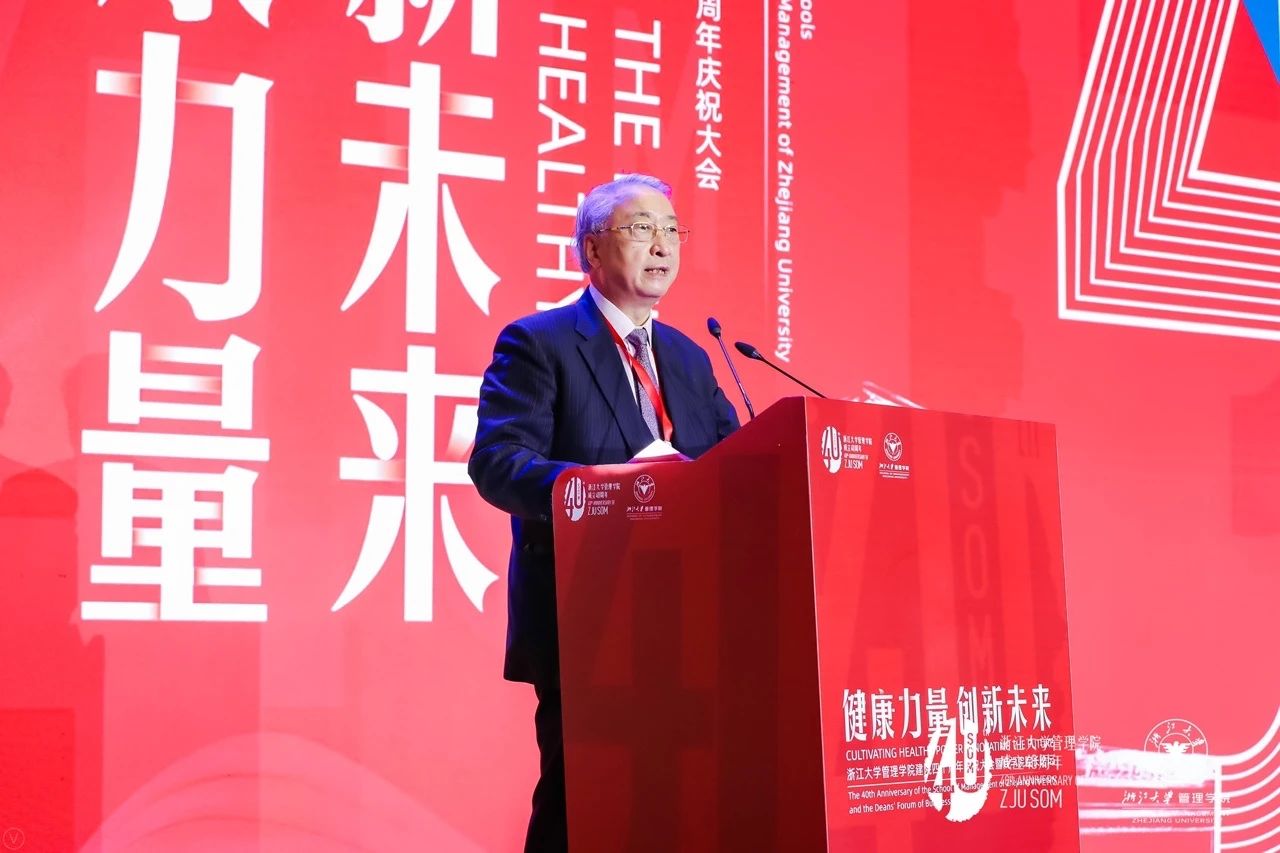 ZHANG Xinsheng, President, International Union for Conservation of Nature, Former Vice Minister, Ministry of Education of China, Chairman, International Advisory Board of SOM
President WU Zhaohui expressed his sincere welcome and heartfelt thanks to all the participants on behalf of the University. He pointed out that in Zhejiang Universitys 123-year of efforts to unswervingly promote the construction of a world-class university with Chinese characteristics, SOM is one of the benchmarks, and has been at the forefront of reform and development.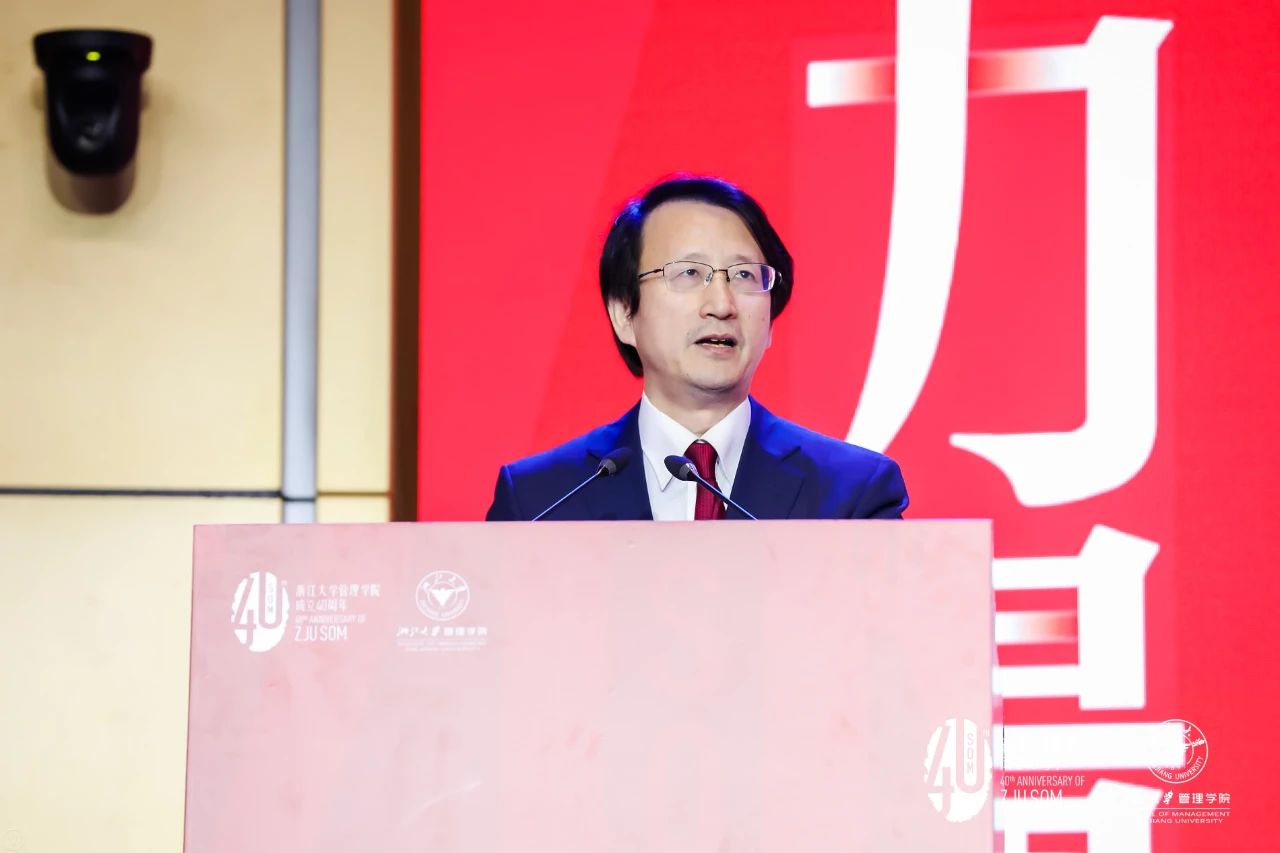 WU Zhaohui, President, Zhejiang University & Academician, the Chinese Academy of Sciences
In the face of the new round of the accelerated integration of technological revolution, industrial revolution and educational revolution, President WU also put forward three expectations for SOM, to further adhere to the teacher-student orientation at this new starting point and create a new peak of disciplines with the concept of "Business Plus", so as to promote the competitiveness of SOM in the cross-convergence; to further strengthen value guidance and explore new heights of development with the concept of "Innovation Plus", so as to stimulate the creativity of SOM in the entrepreneurial model; to further highlight global openness and create a new highland of cooperation with the concept of "China Plus", so as to maintain the vitality of SOM in an interconnected world.
Dean BAI Chongen said in the address that "The development and achievements of SOM over the past 40 years have made an important demonstration role for the development of management schools in China. Here again, I would like to express my sincere respect and congratulations for the unremitting efforts made and the excellence achieved by SOM! I hope that SOM will continue to make greater achievements in the quest to be a world leading management school rooted in China, and work with other business schools to make greater contributions to the development of management education and management research in China."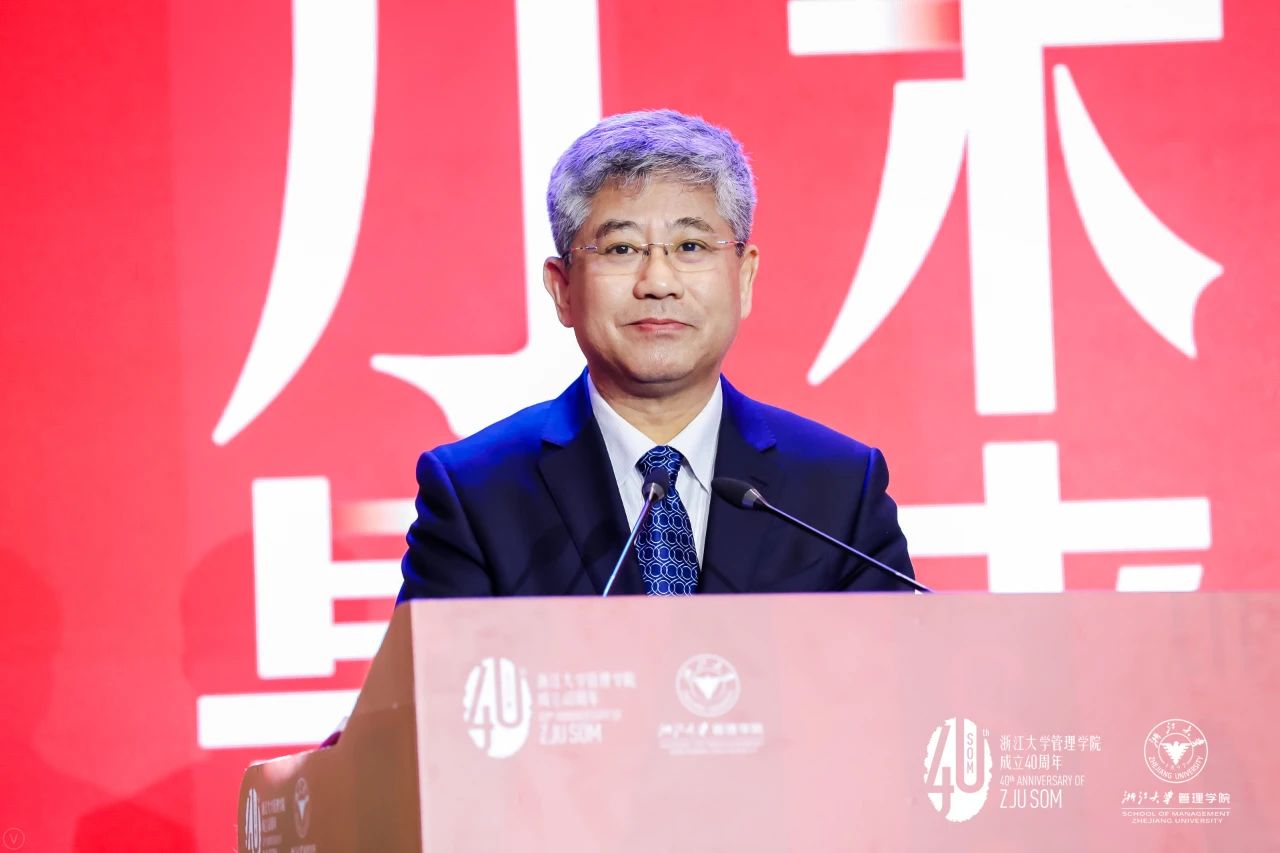 BAI Chongen, Dean, Tsinghua University School of Economics and Management
Tilburg University, Tepper School of Business at Carnegie Mellon University, and Sloan School of Management at MIT sent the video message to congratulate SOM on its 40th anniversary.
Tilburg University and SOM have a long-standing cooperative partnership in many areas, such as co-organization of workshops and seminars on innovation and leadership, co-supervision of doctoral students, and visiting among faculty, etc. Prof. Wim van de Donk, Rector Magnificus of Tilburg University said in the video: "We truly hope that we can continue working with School of Management and also expand our collaboration for the next forty years." He also mentioned that he was impressed by the schools social responsibility during COVID-19 crisis.
Prof. Isabella Bajeux, Dean of Tepper School of Business at Carnegie Mellon University, was the former Dean of Desautels Faculty of Management at McGill University. During her time at McGill, two schools co-founded the Global Manufacturing and Supply Chain Management (GMSCM) double degree program, which has been successfully running for eight years. In the video, Prof. Bajeux extended her congratulations and best wishes on the impressive milestone of 40th anniversary of SOM, and she said: "I am looking forward to more partnership with your school as you continue to pursue your mission of advancing management science leading to innovation, improved social welfare and entrepreneurship."
In the video from MIT Sloan School of Management, Dean David Schmittlein, Associate Dean Kathy Hawkes and Prof. Huang Yasheng congratulated SOM for its great achievements in the past 40 years and looked forward to more potential cooperation. Currently, the two schools are working together on projects such as Food Supply Chain Analytics and Sensing Initiative and Regional Entrepreneurship Acceleration Program, and are looking forward to the important work that will do together and partnership in the near future.

International partner schools sent the videos to congratulate the 40th anniversary of SOM
Watch the full video of congrats from international partner schools
The 40-year development history of SOM is a relay of "Seeking Truth, Pursuing Innovation". Behind the numerous achievements that have been made today is the indispensable persistent leading of past generations of the School. The School of Management Achievement Award was conferred upon the former deans, Prof. XU Qingrui, Prof. GAO Shangquan, Prof. WANG Chongming and Prof. WU Xiaobo, in recognition of their outstanding contributions to the development of the School.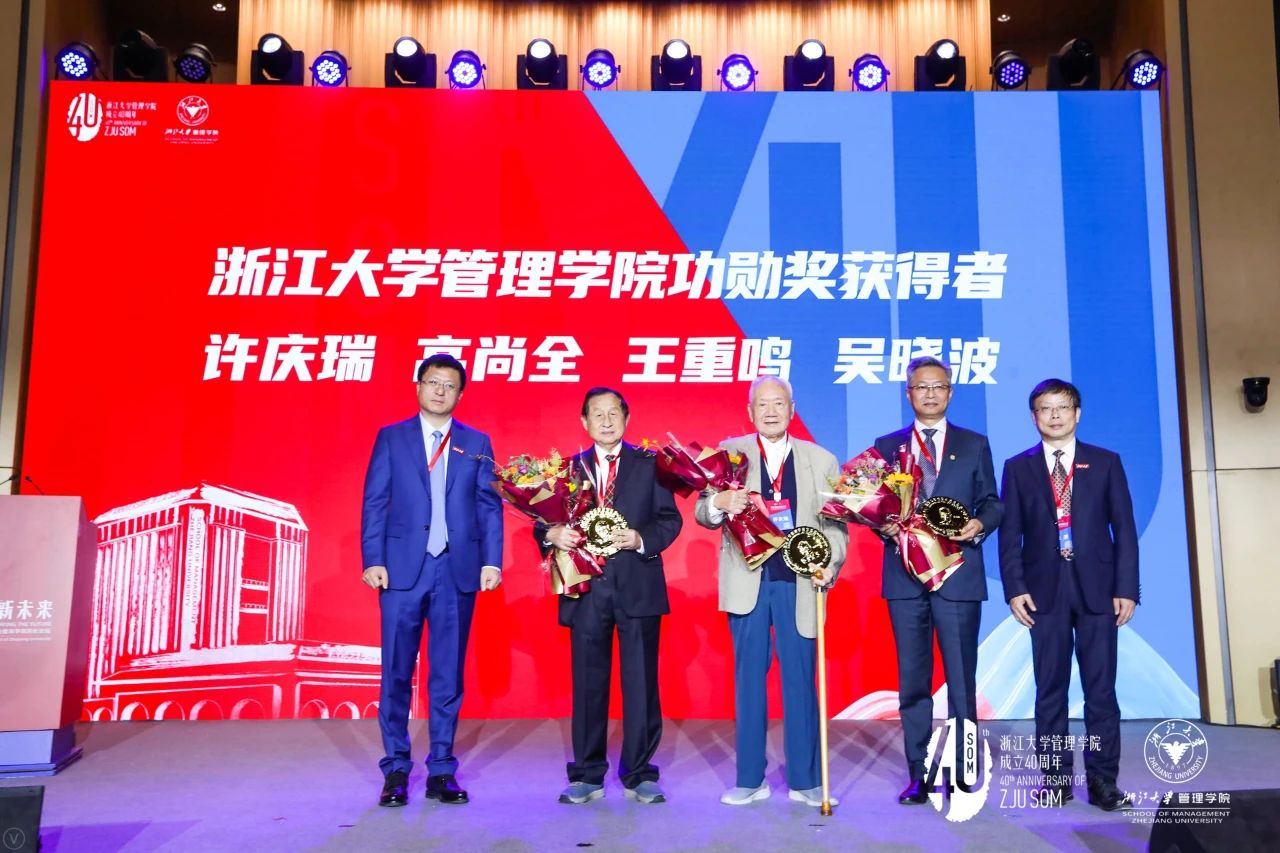 Scene of the award ceremony
From left to right: WEI Jiang, GAO Shangquan, XU Qingrui, WU Xiaobo, ZHU Yuan (Prof. WANG Chongming could not attend due to the epidemic prevention and control)
In order to inherit the struggle spirit of the SOMer of the past generations and encourage faculties and students not to forget their original aspirations and to be entrepreneurial, the School compiled and officially released "the History of School of Management Zhejiang University" and "Business Plus" Education Ecosystem on the occasion of its 40th anniversary.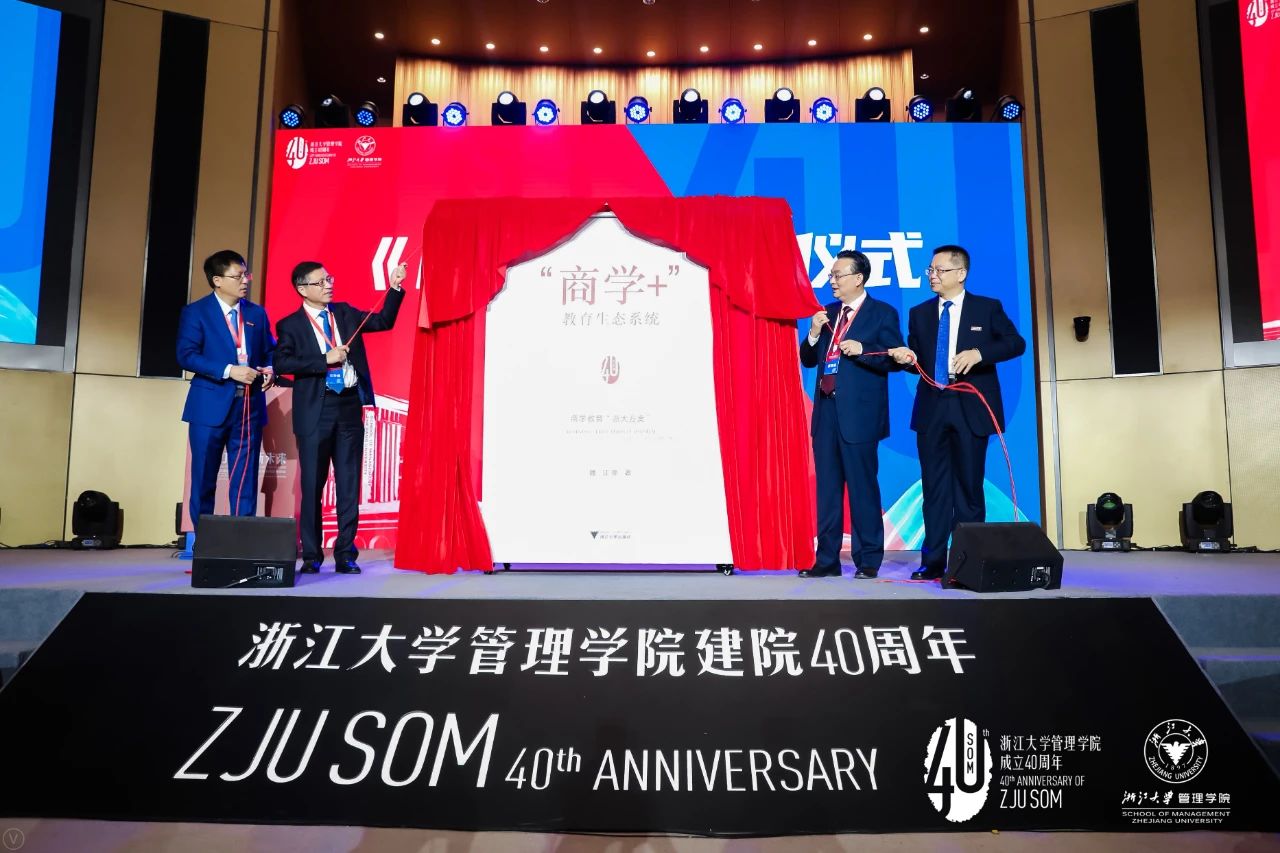 Scene of release ceremony
From left to right: ZHU Yuan, WEI Jiang; BAO Dihong, WU Xiaobo; GAO Shangquan, YING Biao; XU Qingrui, HUANG Zuhui
Dean WEI made the "Report on the Development of SOM" with the theme of "Cultivating Healthy Power, Innovating the Future" - Building a world leading management school rooted in China.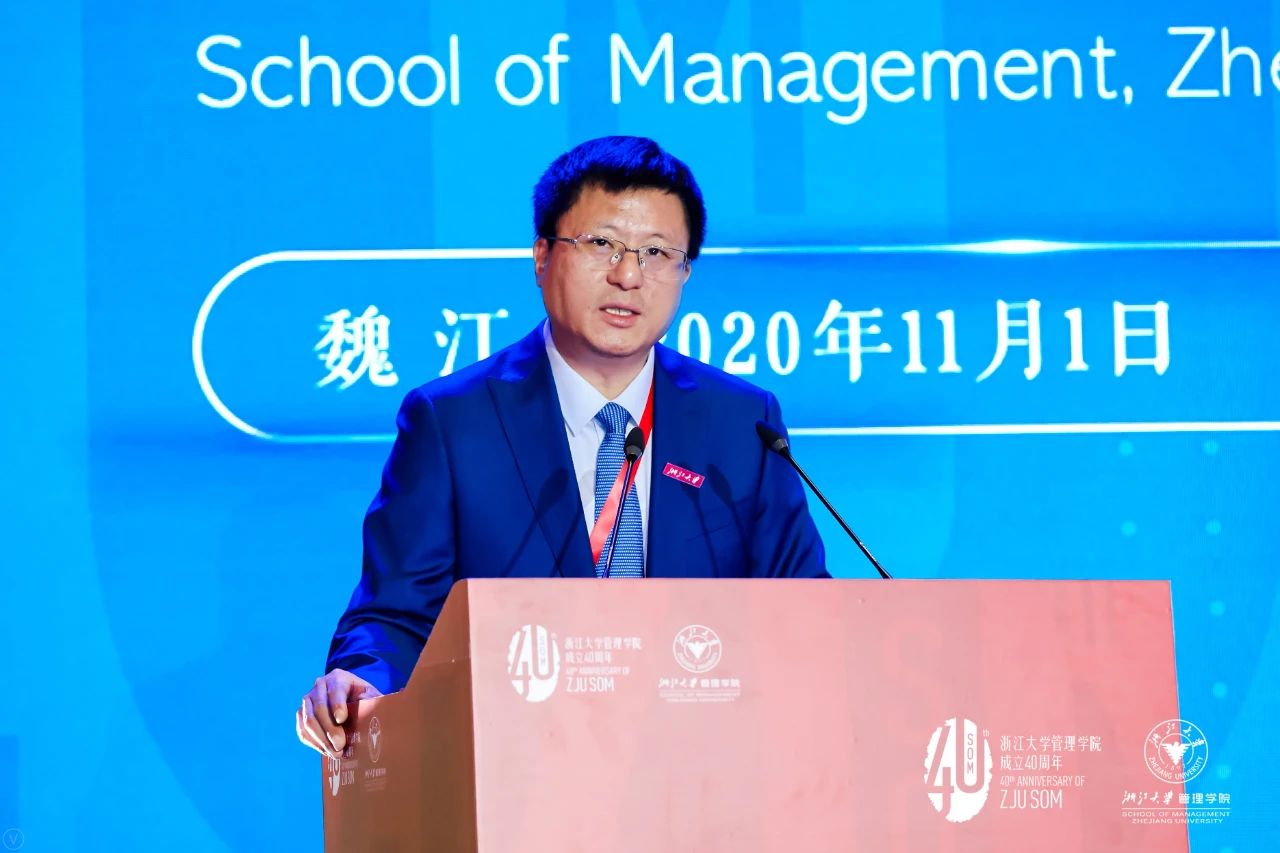 Dean WEI gave the report
At the ceremony, Alumnus Mr. WANG Jianzhou, Senior Advisor, Global System for Mobile Communications Association & Member, International Advisory Board of SOM, and YANG Xueqian, Undergraduate of Accounting 2018 gave gratitude remarks. WANG said that "I was exposed to modern management theories for the first time at SOM, such as hierarchy of needs and competitive strategy, which are very helpful to my subsequent management work". As the student representative, YANG Xueqian expressed her determination to be an ideal, capable, and responsible youth of the era, and to be a healthy power leading the future China.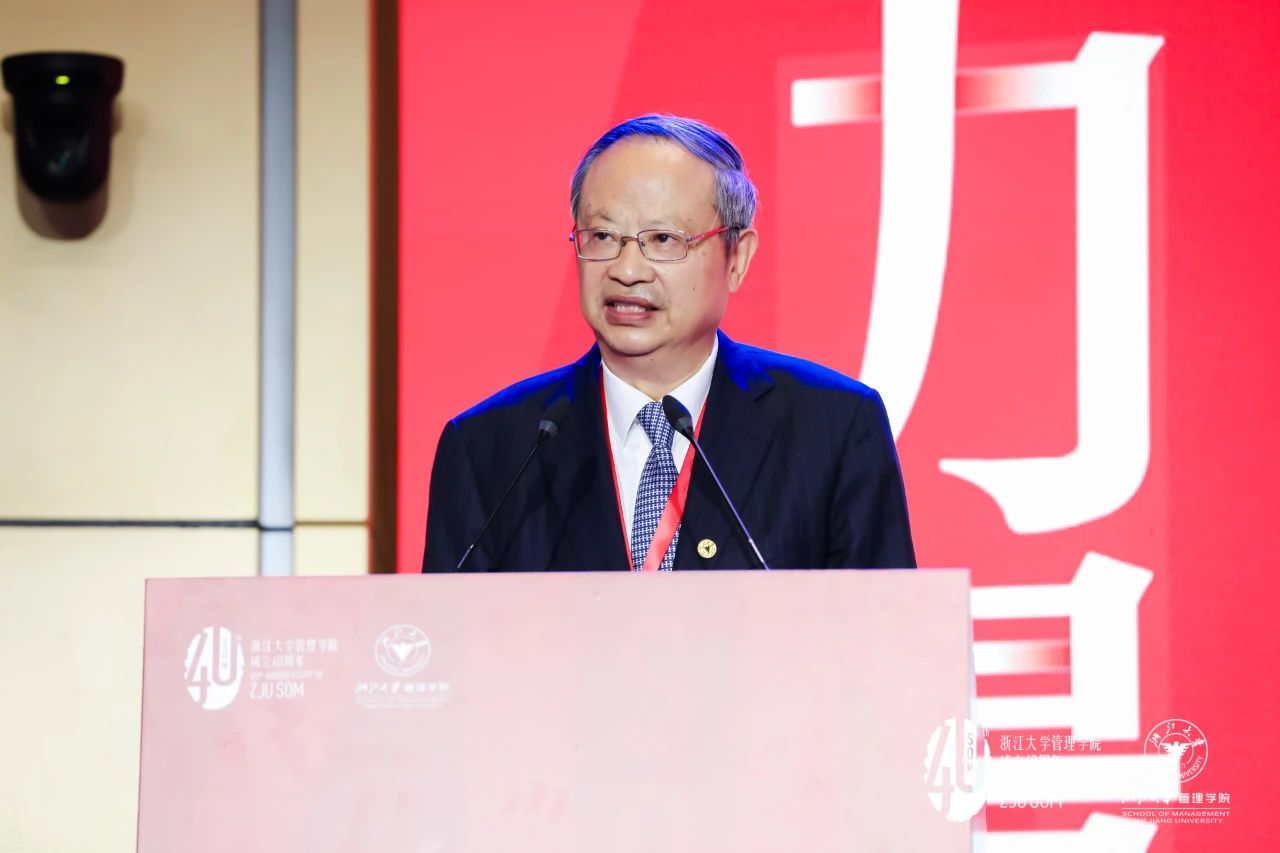 Alumnus Address, Mr. WANG Jianzhou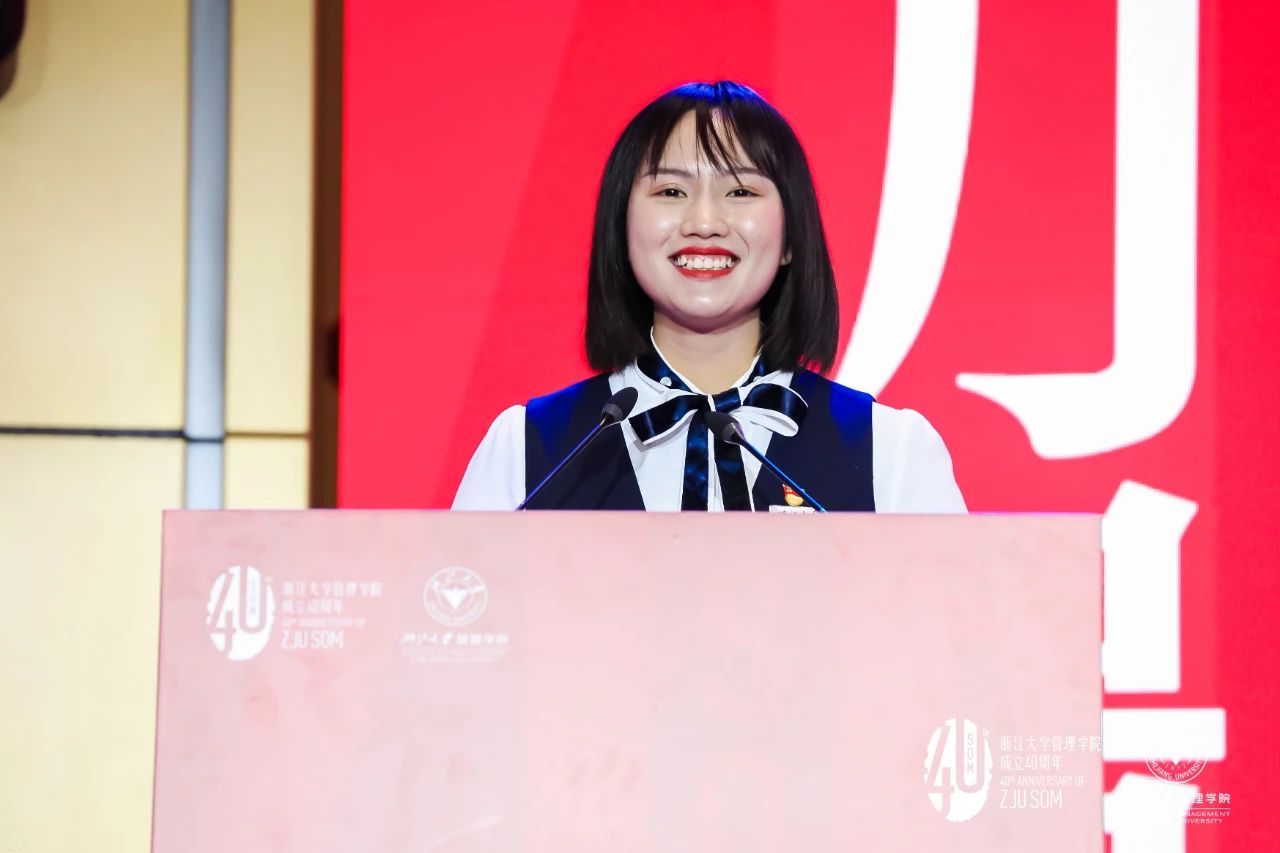 Student Address, YANY Xueqian, Undergraduate of Accounting 2018
In the recent years, SOM has proposed and implemented the strategy of "growing with first-class enterprises (entrepreneurs)". At the ceremony, representatives of industry partners have been invited and together discussed the enterprise social responsibility.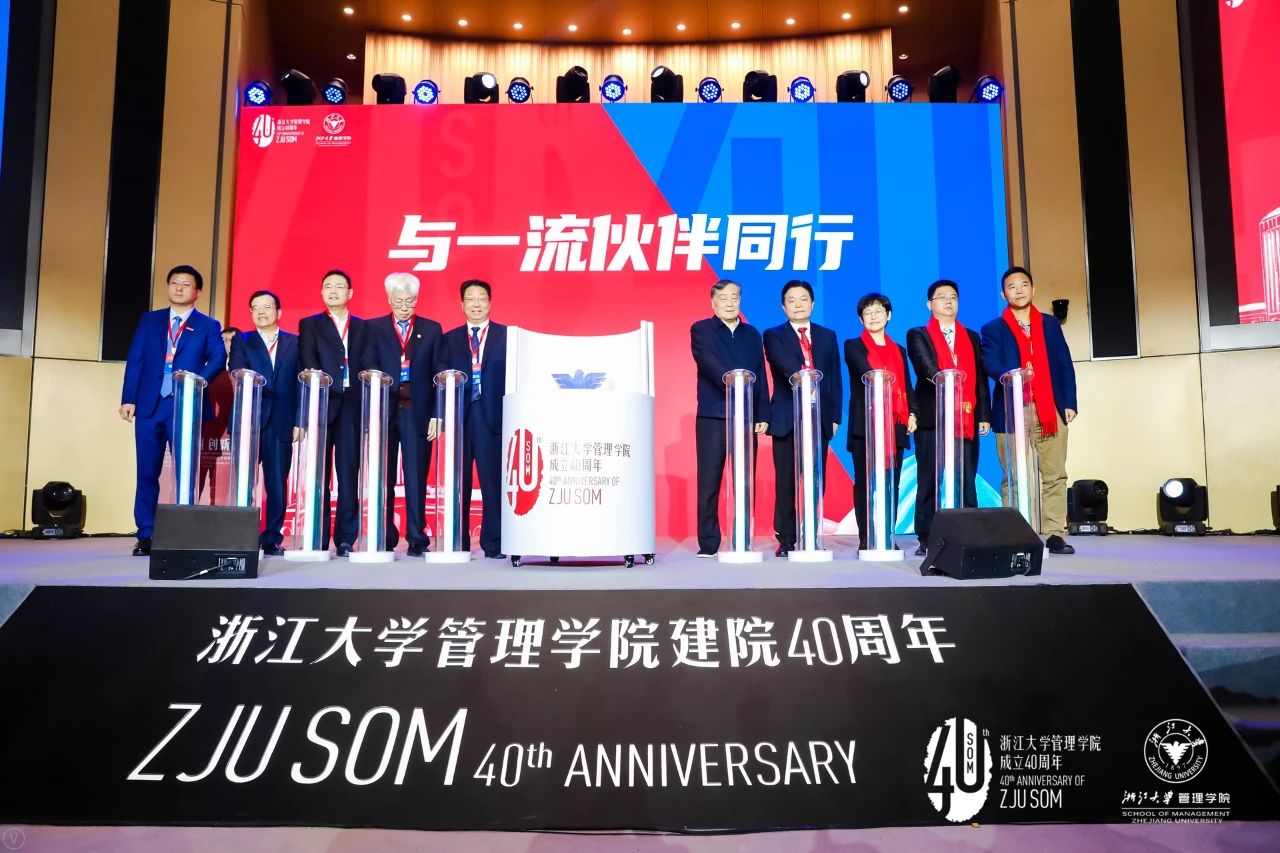 Scene of the ceremony
(From left to right: WEI Jiang, Dean, School of Management Zhejiang University; FU Liquan, Board Chairman & President, Zhejiang Dahua Technology Co., Ltd.; CHEN Zongnian, Board Chairman, Hangzhou Hikvision Digital Technology Co., Ltd.; WANG Heming, Founder & Honorary Chairman, COSMOS Group Co., Ltd.; WANG Tingge, Board Chairman & Secretary of the Party Committee, WZ Group Co., Ltd.; ZONG Qinghou, Board Chairman, Hangzhou Wahaha Group Co., Ltd.; ZHANG Pengfei, Board Chairman, Modern United Holding Group Co., Ltd.; WEI Mei, Vice President, Zhejiang Geely Holding Group; SUN Bin, President, Zhejiang Heqing Flexible Electronics Technology Co., Ltd.; CHEN Jun, Board Chairman, Shenzhen Zijingang Capital Management Co., Ltd.)