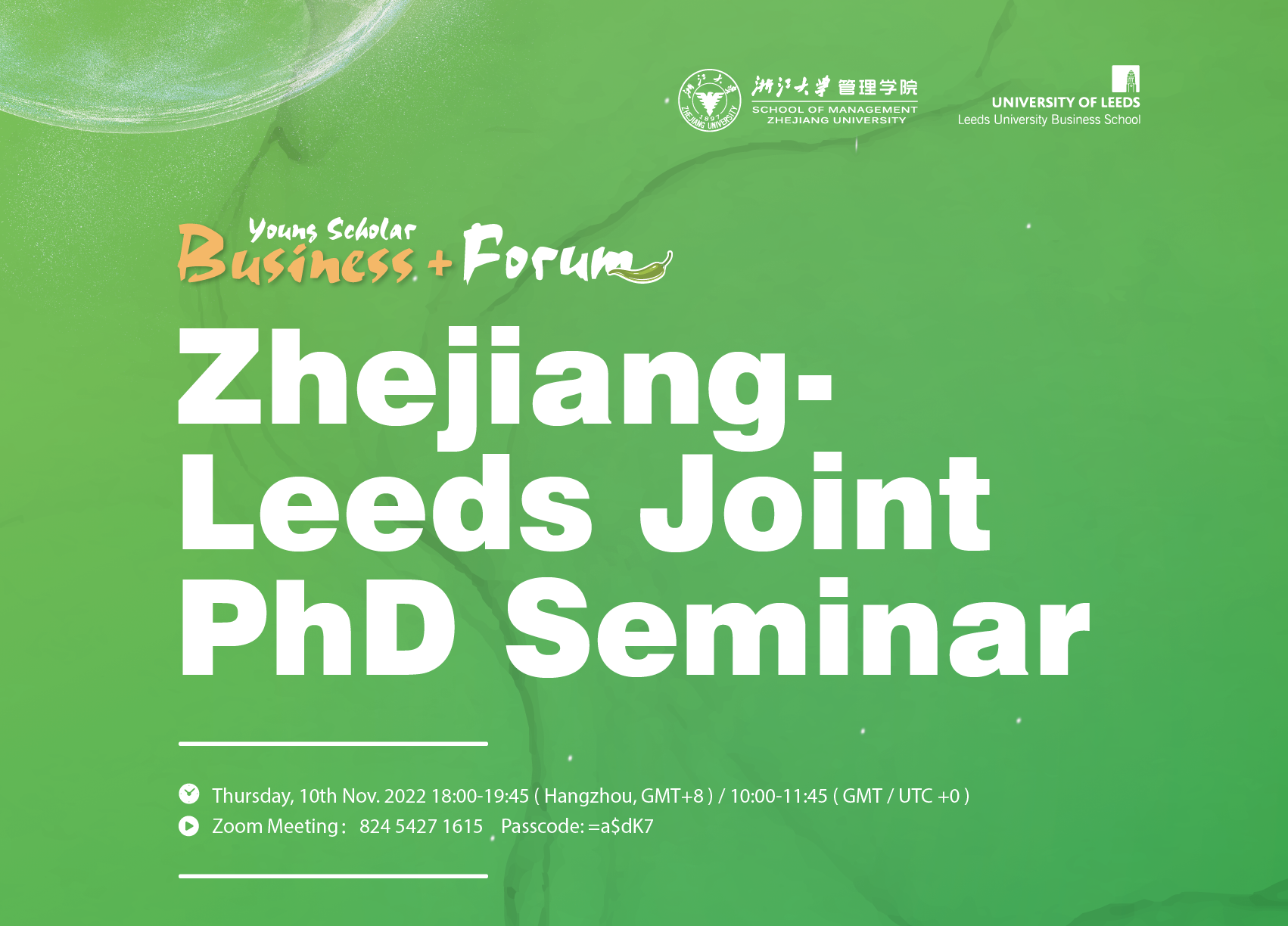 On November 10, Zhejiang University School of Management (ZJU-SOM) and Leeds University Business School (LUBS) jointly held a seminar on Management topic. The seminar chairs were Prof. Lynda Song, faculty at LUBS, and Assoc. Prof. Zhongyuan Zhang, faculty at ZJU-SOM.
At the beginning of the seminar, Prof. Lynda Song shared her recent research on "Academic independent directors in China: Factors influencing career decision-making". The research explores reasons for academics to consider taking on an independent directors (ID) position in firms in China. The professor adopted a quantitative methodology and concluded that career orientation and attitude play significant roles in decision-making around career success. Becoming an ID can be a rewarding and positive career path for academics who look for additional responsibility, income, and impact-making.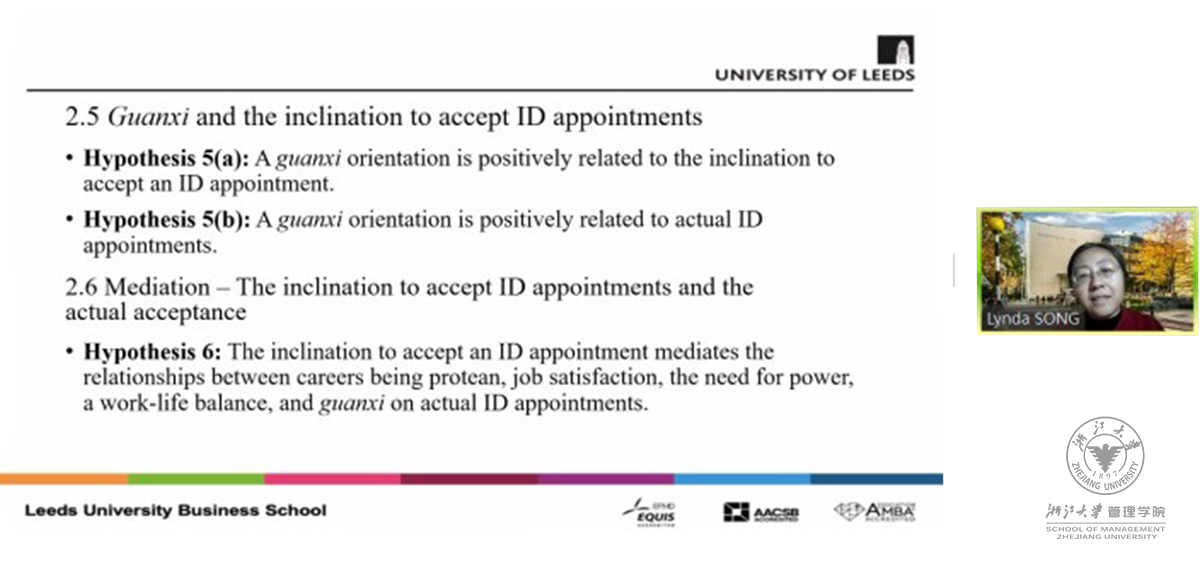 Whereafter, Shan Zhu, a Ph.D. student at ZJU-SOM, shared her research about the relationship between the acquirer's ESG risk exposure and cross-border acquisition completion. Interestingly, she explored the moderating role of Deal rumor in her study, extending its impact on corporate strategy management.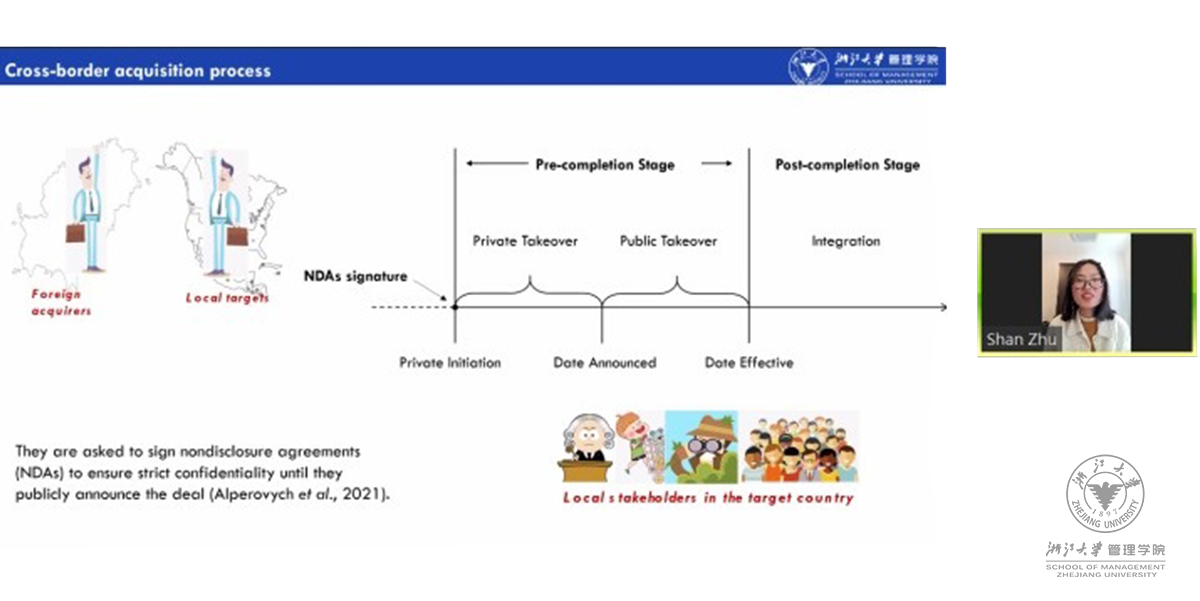 Sabrina Xu, a Ph.D. student at LUBS, discussed her article "Extending a helping hand: How receiving gratitude makes a difference in employee performance during a crisis". Her article drew on social exchange theory and the social functions of emotion perspective, developing a model that elucidates why and when benefactors who receive gratitude expression have performed better in the COVID-19 crisis.
Finally, Lulu Li, a Ph.D. student at ZJU-SOM, discussed her study "When you are not free: Commodity mobility increases perceived justice". She conducted four studies to demonstrate that increased time-spatial constraints decrease perceived justice. Another observation that Lulu Li has made was the the relation: the lower temporal-geographic restraints increase willingness to pay in pay-what-you-want pricing, the higher is justice perception.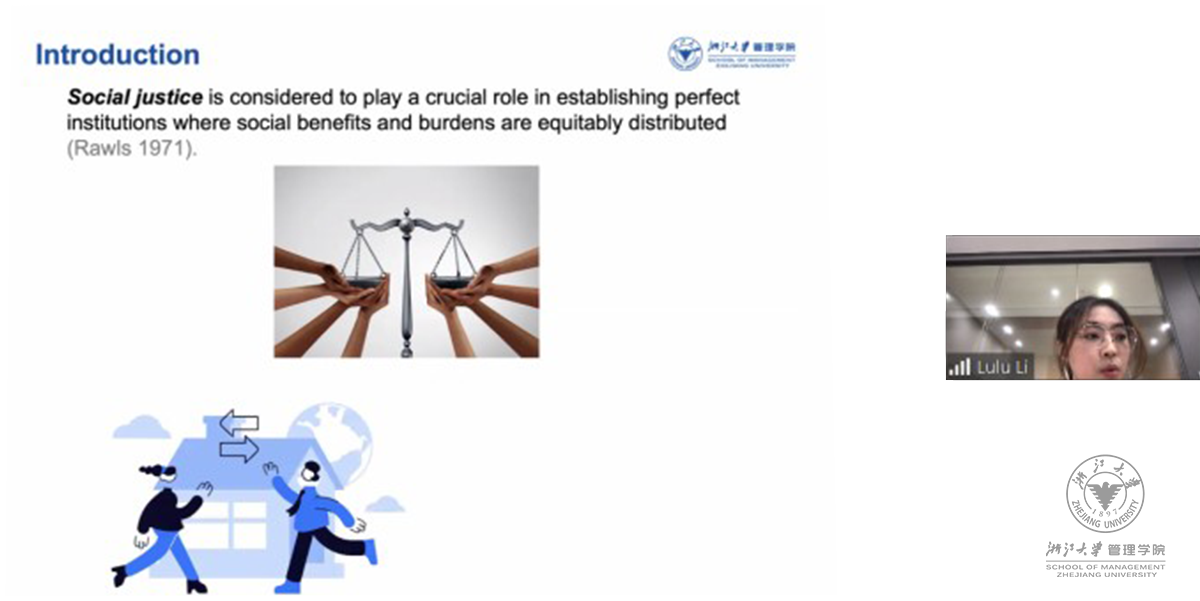 The online seminar ended successfully with a lively discussion for about 2 hours in total.




Professor Lynda J. Song

Leeds University Business School




 

Professor Song has joined Leeds University Business School as a Professor of Management. Lynda has also been appointed Head of the Management Division and takes on this role in November 2019. She previously led the Department of Organisation and Human Resources at Renmin Business School, China.
Lynda's research interests align closely with the Business School's Workplace Behaviour Research Centre (WBRC). Her areas of expertise include creativity, social exchange theory, emotional intelligence, leadership, organizational culture, and human resource management.






Sabrina Lingxiao Xu

Ph.D. candidate at Leeds University Business School




 

Sabrina is a Ph.D. student at Leeds University Business School. Her research interests are leadership, human resource management, workplace well-being, and innovation.



ZHU Shan 

Ph.D. candidate at the School of Management, Zhejiang University




 

ZHU Shan is a Ph.D. student at the School of Management, Zhejiang University; and a visiting Ph.D. student at Alliance Manchester Business School, University of Manchester. She has been working in multinational companies' global innovation and responsible behavior and has published articles in the Asia Pacific Journal of Management and Management and Organization Review. Her recent research focuses on the impact of de-globalization on firms' global innovation strategies.
LI Lulu 

Ph.D. candidate at the School of Management, Zhejiang University




 

LI Lulu is a Ph.D. student in marketing at the School of Management, Zhejiang University. Her research interests focus on consumer behavior and consumer psychology. Her current research is related to consumers perceived justice.
---
We thank Shan Zhu, a Ph.D. student at ZJU-SOM, for participating in the seminar and preparing the summary.