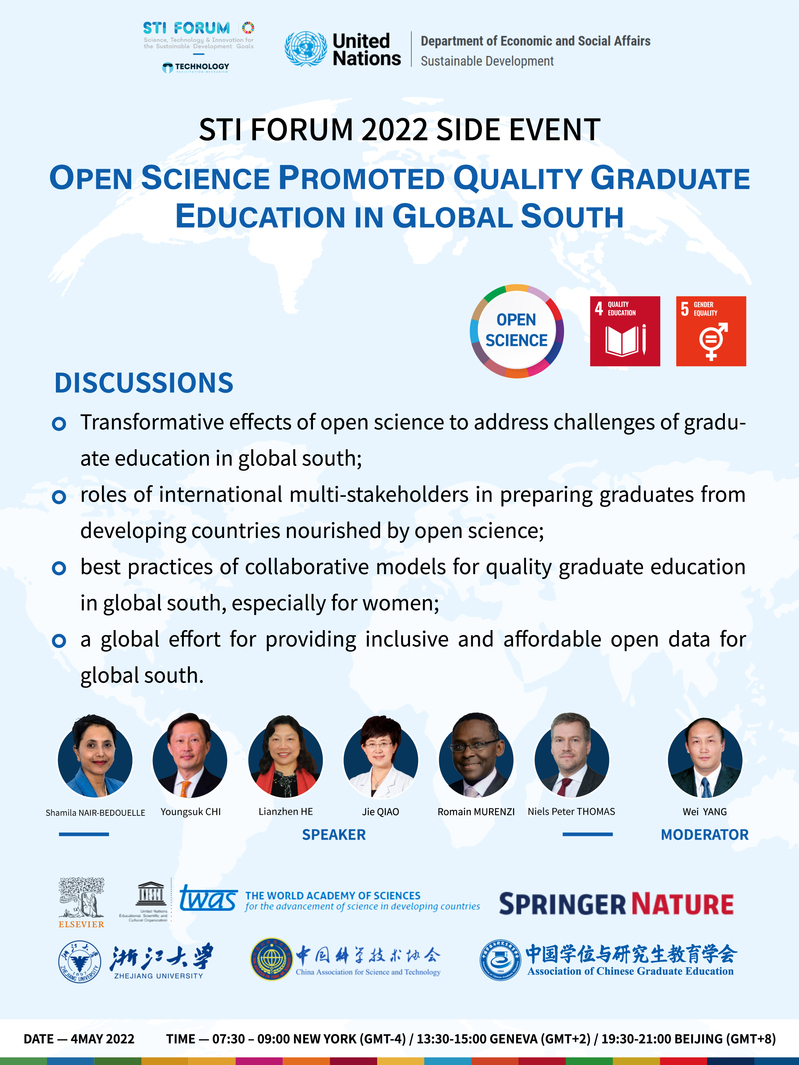 Session Concept Note
The promotion of open science furnishes new avenues for the engagement, innovative culture, and quality assurance in the scaled-up graduate education for developing countries. These well-educated cohorts, female and male, will become vital force in economic development of the nations in Global South and form the backbone of its competitiveness and innovation. This side event intends to convene representatives from multi-stakeholders including top universities, global publishers, NGOs and academics to explore the interaction between Open Science and quality graduate education in Global South under South-South collaborations. Discussions are set around 1) transformative effects of open science to address pressing challenges of graduate education in Global South, especially under pandemic situation; 2) roles of international multi-stakeholders in preparing graduates from developing countries with the required qualities to become researchers nourished by open science; 3) the best practices of current/future collaborative models for quality graduate education in Global South, especially for women; and 4) a global effort for providing inclusive and affordable open data for Global South. This dialogue will forge a consensus over the concept of open science on graduate education in Global South and deliver valuable recommendations on next steps.
List of Speakers (in alphabetic order)
Youngsuk (YS) CHI
Chairman of Elsevier
Lianzhen HE (female)
Vice President of Zhejiang University
Romain MURENZI
Executive Officer of The World Academy of Sciences (TWAS)
Shamila NAIR-BEDOUELLE (female)
Assistant Director-General, UNESCO
Jie QIAO (female)
Professor and Executive Vice President of Peking University
President of China Womens Association for Science and Technology
Niels Peter THOMAS
President for Springer Nature, Greater China and Managing Director Books
Wei YANG (moderator)
Chair of CCOS, Treasurer & UNESCO Representative of TWAS, Advisor of Springer Nature, Chair of CSADGE
Backup 
Ke GONG
President of World Federation of Engineering Organizations (WFEO)
Moctar TOURE
Governing Council of The World Academy of Sciences (TWAS), Vice President for Africa.
President of the Senegalese National Academy of Sciences (ANSTS)
Background Document
- The UNESCO Recommendation on Open Science: 
https://unesdoc.unesco.org/ark:/48223/pf0000379949.locale=en
- Detailed information of STI Forum 2022: 
https://sdgs.un.org/tfm/STIForum2022